Products span respiratory care
Respironics develops and manufactures innovative sleep and respiratory products and programmes, which it distributes internationally: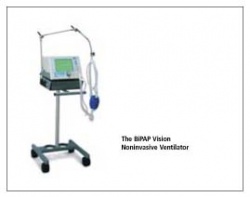 'Our goal is to provide products and programmes to treat, monitor and manage respiratory-impaired patients throughout the care continuum.' The company's Esprit critical care invasive ventilator and BiPAP Vision non-invasive ventilator, incorporate the unique Auto-TRAK Sensitivity algorithm. 'This technology tracks, detects and responds to breath-by-breath changes in leak rate and flow demand -which may lead to reduced work of breathing. It ensures more natural and comfortable ventilation for patients and improved outcomes for clinicians.' Respironics explains.
Other invasive product solutions include its NICO2 Cardiopulmonary Monitor '… which helps take the guesswork out of ventilation management through breath-by-breath volumetric CO2 measurements', and respiratory drug delivery products, for example the Sidestream Nebulizer with System 22 Valved T-Piece, Aeroneb Pro Micropump Nebulizer and the OptiVent MDI Spacer.
Non-invasive product solutions include the WhisperFlow 2-60, an integrated high flow CPAP generator and oxygen concentration monitor, and a comprehensive range of patient interfaces designed for Auto-TRAK compatibility.