Picking up the pace
John Brosky reports
After years of go-slow adoption and cautious optimism, European cardiologists are now embracing remote monitoring of cardiac electrophysiology devices. 'We are at the dawn of a new era,' concluded Dr Philippe Ritter, Chairman of the Cardiostim 2010 congress, after reviewing findings of studies that delivered unequivocal evidence that remote monitoring is not only a safe alternative to clinic visits but also highly effective for the detection of cardiac events.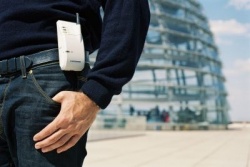 Dr Ritter's enthusiasm was matched by fellow cardio-physiologist colleagues who awarded the first-ever Cardiostim Innovation Award to the pioneering Home Monitoring system from Biotronik KG.
This year both Medtronic and St Jude Medical introduced new adaptors for their remote monitoring devices, to allow patients to send data to a clinic over a wireless phone, recognising the growing mobility of patients and a pronounced shift away from the fixed line systems used to date.
St Jude reports that 24% of all European households have only mobile phone access and the mobile-only rate is 39% in the 12 newest European Union Member States, according to Eurobarometer.
Can we soon expect to see an iPhone app for cardiac device patients? The first smartphone application to display advanced patient data for cardiologists was approved earlier this year by the USA's Food & Drug Administration.
Reimbursement for home monitoring remains problematic across Europe's fragmented landscape of payers and autonomous regions for healthcare decision-making. And, each country has legal issues to navigate, whether regarding the exchange of confidential patient data or liability for health professionals when complications arise after hours.
A French-based trial presented at Cardiostim 2010, called COMPAS, was conducted to provide specific findings for that country's authorities to encourage reimbursement, and focused on pacemakers rather than implantable cardiac defibrillators (ICDs), which are the focus of most other studies to date.
The 538 patients with Biotronik pacemakers were randomly assigned to either remote monitoring or to a standard-of-care control group and followed during 18 months.
The number of interim in-office visits were reduced by 56% in the remote monitoring group and, where required, cardiologists reported that 62% of the visits were useful, compared to 29% in the control group.
Significantly, remote monitoring facilitated the early detection of six atrial arrhythmias, versus 18 in the control group, while strokes were significantly reduced, with two reported for the remote monitoring group and eight in the control group.
With a rapidly increasing population of ICD patients, remote monitoring promises to relieve a mounting pressure on clinics where follow up visits are recommended at three-month intervals by most manufacturers and at least semi-annually by health authority guidelines.
Remote monitoring allows cardiac physiologists to triage patients, enabling them to focus on more complicated and symptomatic patients, and then scheduling patients by priority for clinic visits according to whether the problem detected remotely is for clinical assessment, re-programming or a technical problem with the device that needs to be verified.
In March of this year, the CONNECT trial (Clinical Evaluation of Remote Notification to Reduce Time to Clinical Decision) trial followed nearly 2,000 patients with Medtronic ICDs equipped with the a telemetry system that sends regular reports and immediate alerts through company's CareLink network.
The study measured the time from an adverse event, including arrhythmias and device malfunctions, until a clinician made a decision about the problem and showed a median time reduction of 17.4 days for patients in the remote-monitoring arm compared to the in-office monitoring arm. 'This is the first trial to show that remote follow-up actually creates outcome measures that we can put our arms around and shows we can improve care,' said Dr George Crossley, from the University of Tennessee College of Medicine, when presenting the findings at the American College of Cardiology meeting.
Most remote monitoring systems rely on patient participation to activate the transmission of data, and the next-generation for ICD monitoring will be automated reporting that requires no patient intervention.
Results of the TRUST trial, published in the July 27, 2010 issue of Circulation, reported that the median time from event onset to evaluation for all arrhythmias, including atrial fibrillation, ventricular tachyarrhythmia, and ventricular fibrillation, was less than three days for patients with Biotronik Home Monitoring compared to more than 30 days for patients with conventional in-office follow-ups.
'The TRUST results unequivocally establish remote monitoring as a highly effective method of follow up,' said Dr Niraj Varma from the Cleveland Clinic, who was a principal investigator for the trial. The need for regular in-clinic follow-up, he added, was virtually halved for patients with automatic, wireless systems that perform daily telemetric surveillance without requiring patient activation.
Dr Charles Love, from Ohio State University, who also participated in the study, said: 'Decreasing the number of non-actionable, scheduled and unscheduled clinic visits through remote monitoring significantly eases the pressure of overloaded follow-up cardiac clinics and permits physicians to focus on patients who actually require intervention.'