Patient-worn telemetry system aids mobility
Dräger's new Infinity M300 patient-worn monitor has been installed at major hospitals in the USA and Germany. Though compact and patient-worn by adult or paediatric patients, this telemetry system performs like a full-size patient monitor, the manufacturer points out, adding that it runs on a hospital's existing 802.11 b/g network, saving costs on a separate wireless network.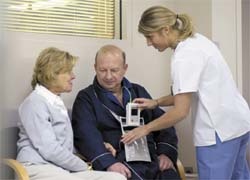 In addition to monitoring ECG and SpO2, the device has built-in algorithms to enhance ECG processing and reduce false alarms – such as pacer detection software and ACE (Arrhythmia Classification Expert), an arrhythmia analysis tool.
Infinity M300 addresses the three major challenges of telemetry monitoring. The first is viewing patient information at the patient's side. Unlike traditional telemetry devices that have no screen, Infinity M300 has a colour display that shows the patient's ECG for all monitored leads, heart rate, SpO2, and electrode status – enabling the staff to access monitored data and react promptly without having to visit the central monitoring station. The display also shows patient demographics to help confirm the patient's identity before giving medication, taking blood samples or performing treatments.
The second telemetry challenge is hearing and responding to alarms. Infinity M300 has built-in alarming and alarm controls that provide alarm alerts at the patient's side as well as on Dräger's Infinity CentralStation. The built-in display helps the clinician assess alarms and respond accordingly.
The third challenge is the cost and effort associated with disposable batteries. The telemetry system has a built-in battery, rechargeable via a bedside charger while the patient wears the device, or at a multi-device charger at the central monitoring station.
'We're very excited about the system's potential to help address the challenges of today's busy ambulatory environments,' said Dina LaTulippe, Director of Product Management, Central Monitoring Solutions at Monitoring, Systems & IT, in Andover, Mass., USA.