OrthoMIT
More than 30 clinicians, researchers and industry partners (including Siemens, Aesculap and SurgiTAIX, an RWTH spin-off) are working on OrthoMIT, Germany's largest collaborative orthopaedic research project that aims to develop future strategies for knees, hip and spinal surgery. Anja Behringer reports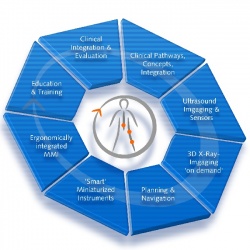 The project, which has received more than €13 million from the German Federal Ministry of Education and Research (BMBF), is expected to have a platform available by early 2013 to evaluate and demonstrate the evolving system.
Subprojects within the complex of minimally invasive orthopaedic therapy (OrthoMIT) are studying product and quality management, training, ultrasound, mechatronics, navigation and the integrated workstation as a network.
Klaus Radermacher, Professor of Medical Technology at RWTH Aachen University and head of the OrthoMIT project, explains: 'The smartOR is a continuing project, which results from the large success of the orthopaedic subproject TP 13 – the Integrated Workstation, and also looks at the very complex aspect of risk management for modular, integrated operating systems for other surgical disciplines.
'An important aspect for the future operating theatre is the development of useable contributions for international standardisation in the risk management of IT networks in medicine. Research institutes, hospitals and industry partners will utilise the smartOR demonstration environment as an experimental development platform for the validation of developed concepts, for training and for successful future marketing.'
The optimisation of clinical workflow, as well as surgical strategies and protocols, is central in order to reduce the costs of a surgical intervention. The use of new procedures and technologies leads to shorter operating and rehabilitation times and therefore to shorter hospital stays. Patients and medical staff are exposed to lower radiation doses and complications are rarer. The surgical team's workload and the imprecision of surgical execution are to be reduced. This also includes aspects of postoperative care and rehabilitation, in as far as they are caused by the specific therapeutic strategy, or concern measures of quality assurance.
Through analysis and modelling of specific clinical workflows in different surgical disciplines a dynamic adaptation of the system to changing environments and user profiles is possible. User friendliness and acceptance for the human-machine interfaces will also be increased.
Surgical instruments are equipped with novel, miniaturised sensors that not only facilitate the precise localisation and navigation of the instrument but also the immediate evaluation of bone quality or any occurring working forces or joint forces. Intelligent mechatronic assistance systems support surgeons in fatigue-proof holding and the precise guidance of instruments and sensors.
Also planned are novel miniaturised robotic systems that alleviate problems encountered with previous systems and enable highly precise, efficient bone processing - and also, therefore, new minimally invasive procedures such as joint preservation and joint replacement. As the quality of therapy is characterised by the quality of available tools and procedures and the training and skill of the surgeon in using the technology, the project also envisages the integrated development of the most modern, computer-assisted training systems for surgeons.
All measures are united by the overall objective of reducing costs through the integration of modern technological procedures and tools into the surgical workflow, and into the entire treatment process, from diagnosis to rehabilitation.
Based on the WHO-supported, global, multidisciplinary initiative the 'Bone and Joint Decade', the project focuses on surgery for the hip, knee and spine, all equally affected by osteoarthritis, osteoporosis and trauma.
From an economic viewpoint, the objective of OrthoMIT is to create a new generation of modular, computer-integrated surgical workstations and tools that support the surgical therapy process from pre-operative preparation via intra-operative surgical work to postoperative care and rehabilitation. A vital prerequisite for this is that the networked medical systems work with open standards across manufacturers, under assurance of effective risk management. This is something that the industry must work on jointly.
The role of German industry for orthopaedic surgical products on the world market is also to be strengthened. The worldwide market for orthopaedic products in 2002 was US$12-13 billion, with a growth rate of 9-10% a year.
OrthoMIT industrial objectives:
• new minimally invasive surgical strategies
• new techniques for interventional ultrasound based imaging and registration, especially of MRI data and multiplanar and volumetric interventional X-ray imaging with a new electronic flat panel detector
• miniaturised sensor-integrated instruments
• enhanced knowledge based planning and navigation systems
• synergistic manipulator systems and active mini robots
• an integrated ergonomic surgical workstation
• integrated modules for case based education and training.