Olympus is offering LESS Surgery
Laparo-Endoscopic Single-Site Surgery (LESS Surgery) is one of the most significant innovations in medical technology. Olympus is now one of the first providers in the world to offer a complete surgical instrument set specially tailored to LESS Surgery.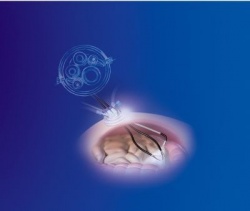 Since LESS Surgery was first introduced in May 2007, it has led to a surgical revolution. The advantages are evident: single-site access, such as through the navel, means that LESS Surgery is practically scar-free and can result in a decrease in discomfort caused by wound healing.
Together with experts from the field, Olympus is now one of the first providers in the world to have developed a set that supplies the entire range of necessary equipment. All instruments are specially tailored for operations using single-site access and significantly simplify adaptation of
the new method.
Access through the navel is made using a TriPort or QuadPort, through which up to three hand instruments can be simultaneously guided. The single-access tailored HiQ LS hand instruments have a double angulation and their curved shaft design not only makes optimum use of the limited space, but also means that they are used in a similar way to standard laparoscopies: the right hand remains on the right side during operation and vice versa. With the instruments previously used for LESS Surgery, doctors sometimes had to work mirror-inverted.
"Using the new instruments, operations are truly minimally invasive," says Professor Jens-Uwe Stolzenburg from the University of Leipzig. "LESS Surgery is suitable for practically all laparoscopic procedures and already shows great potential for the future." The new videolaparoscopes EndoEYE LS and LTF-VP transfer the advantages of the successful Olympus laparoscopes to the new operating method. The EndoEYE LS handle can be turned by up to 70° and therefore
does not interfere with use of the hand instruments. "As a world market leader in the area of high-quality endoscopic systems, we offer the ports, hand instruments and the optics needed for the essential minimally invasive surgery sector all from one source," explains Heinz Jacqui, Executive Managing Director at Olympus Winter & Ibe. "Olympus can capitalise on this to strengthen and build up its position as technology leader in the minimally invasive surgery sector."
For clinics, this process also offers advantages: with similar operating costs to comparable surgical methods, we expect that hospitals will be able to cut costs due to the decrease in the risk of post-operative wound infections.

More on the subject:
More on companies: