Success story
New set of dates for Medica has been widely approved
The new set of dates running from Monday to Thursday has been widely accepted by the specialist visitors of the world's largest medical trade fair, the MEDICA 2015, as well as the specialist supplier trade fair, COMPAMED 2015, being held in parallel. Both were well received right from the start this year. "The 19 trade fair halls were intensely visited without exception. The concentration of the MEDICA + COMPAMED during the normal working days of the week offers the specialist audience an even wider variety of travel planning options.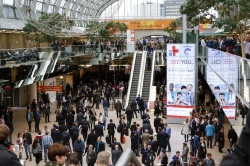 This time, that had a positive effect on the well-visited trade fair forums as well as the accompanying conferences. Here, the many programme highlights were very popular on all days," said Joachim Schäfer, managing director of Messe Düsseldorf GmbH.
From 16 – 19 November, 130,000 specialist visitors from around 120 nations came to Düsseldorf (previous year: 128,500). The portion of international visitors amounted to just over 50 percent, a strikingly large number came from the foreign markets of the USA, Latin America and especially from Iran and countries located in the Arabic-speaking regions. "The MEDICA is and shall remain a top event for decision-makers across all country borders," Joachim Schäfer added with respect to the fact that 96 percent of the visitors have decision-making power. For the first time, the complete spectrum of innovations for out-patient and clinical care were offered by almost 5,000 exhibitors from 70 nations to experts from hospitals, practices, laboratories, the retail sector as well as from industrial ranks and cost bearers (insurance companies) that are especially relevant with regard to investments.
Being the leading trade fair for suppliers of the medical technology industry and being held for the first time during the course of four days, the COMPAMED took place in connection with the MEDICA already for the 24th time. A record number of 779 exhibitors presented technology solutions and services for the entire medical technology supply chain to the 18,800 specialist visitors in halls 8a and 8b – from the development to approval, all the way to mass production and sales, as well as spare parts handling.
Dates of the next MEDICA and COMPAMED in Düsseldorf: 14 - 17 November 2016
For latest Medica news please click here!
You missed our daily Medica newspaper? E-paper is available here!