New network could lower accidents mortality
Surgeons and radiologists unite to ease image transfers. Around 30-35,000 people a year are severely injured in accidents and need urgent, appropriate and competent care within minutes. The TeleCooperation TNW project, a new development in Germany's medical care for severely injured patients, links with several hundred hospitals to ensure the rapid transfer of image data across the country.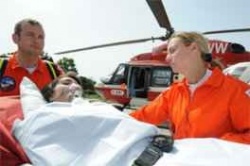 This as yet unique radiology network, developed by the German Society of Trauma Surgery (DGU) and the Information Technology Working Group at the German Radiological Society (DRG), is run by the DGU subsidiary, the Academy of Trauma Surgery (AUC). The DGU has worked for some years on various related quality assurance projects, including the Traumaregister DGU that, up to 2011, collated data on about 50% of severely injured accident victims. Through its trauma networks, DGU drew together over 800 hospitals that regularly care for the severely injured in regional networks.
TeleCooperation TNW is now providing a national infrastructure, closing existing communication gaps between hospitals. 'Participating hospitals can exchange X-ray images regionally within their own Trauma Network, as well as cross-regionally for consultations with specialists,' said Professor Tim Pohlemann, DGU's First Vice President. Rural regions, or those difficult to cover, will very much benefit from the new network, added to DRG President Professor Michael Forsting. The financial and organisational expenditure for hospitals is comparatively small – all that's needed for data transfer is a computer with internet access. Even transferring larger data bundles – say around 1,000 image files – should not take more than 15 minutes. Handling is described as 'easy' and costs – particularly for smaller hospitals – appear to be affordable.
The basic teleradiology packet is about €100 a month to run and can be enhanced by further modules. For an additional sum the system can make X-ray images available on the computers of doctors working from home, to network them in via the portal for a consultation without having to travel to the hospital – thus the hospital clinician always has a specialist at hand, explained AUC Managing Director Professor Johannes Sturm. Images also can be viewed on a Smartphone or tablet-PC. In the long term, TeleCooperation TNW sees itself as an open and extendable platform that all medical disciplines working with images can utilise and which is not restricted to accident and emergency care. General practitioners, physiotherapists and rehabilitation clinics can also connect to the service.
The network system also demonstrates how cooperation between specialist medical associations can work. After all, prompt, correct care in an emergency depends largely on the quality of images and fast access to them. 'Radiologists often see themselves as service providers for other medical disciplines. In many cases they are the link between specialists, the central diagnostic interface, and the drivers behind the chosen treatment,' Prof. Forsting pointed out. Teleradiology networks have already been set up in many German areas, but what was missing was a system to ensure the immediate data transfer adhering to data protection laws. Further opportunities to extend the network may follow – even worldwide. The DGU subsidiary already helps hospitals in Dubai and China with teleradiology procedures. 'It is perfectly conceivable that we will extend our range of services,' said AUC's Prof. Sturm. However, Prof. Forsting stressed that the transfer from Germany of X-ray images to obtain diagnoses abroad will not occur; the law stipulates that diagnoses must be carried out in Germany. Report: Susanne Werner.