Display
New 4K UHD 32" endoscopy display from NDS now shipping
Silicon Valley-based medical visualization leader NDS has announced its Radiance® Ultra 4K Ultra-High-Definition (UHD) 32" endoscopy display is now in full production and shipping globally to major markets.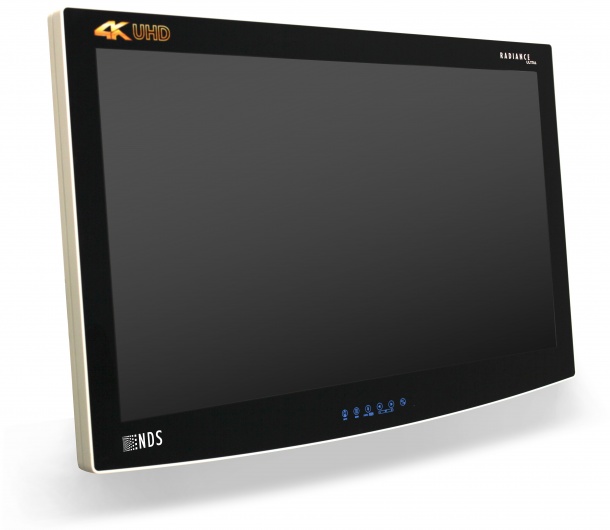 The greatly anticipated 4K market entry from NDS builds upon a legacy of technology innovation designed solely for the endoscopy environment. The new Radiance Ultra 4K UHD display provides a significant increase in image clarity and detail, with four times the resolution of today's "full-HD" video standard as well as an ultra-wide color gamut range. When compared to HD technology currently in place, the Radiance Ultra 4K UHD delivers a new level of world-class performance with higher brightness, higher resolution, and higher accuracy of color reproduction allowing for an increase in visual clarity during the procedure.
Bringing high-precision 4K visualization to a range of minimally invasive endoscopic procedures, the Radiance Ultra 4K UHD 32" display is design engineered to offer intelligent and exclusive features, including splash-proof, edge-to-edge glass to enable easy cleaning which can potentially help reduce procedure turnaround times. To eliminate display scratches caused by IV poles or surgical light heads, the Radiance Ultra series uses scratch-resistant, chemically strengthened glass that includes an industry-exclusive 10-year scratch-resistance guarantee.
Learn more about the new Radiance Ultra 4K UHD 32" display at www.ndssi.com.
About NDS
Headquartered in Silicon Valley, California, NDS is a global leader in designing and manufacturing endoscopy visualization, video processing, and wireless imaging systems. NDS technology solutions have led the way in re-defining modern operating rooms and endoscopy suites.
At the forefront of innovation in medical imaging technology, NDS delivers HD visualization products that enable the clinical imaging solutions of the future, and drive constant improvements in collaborative medicine. NDS, a Novanta Company, has US-based R&D and manufacturing facilities, and a global presence in more than 35 countries.
About Novanta
Novanta is a leading global supplier of core technology solutions that give advanced industrial and healthcare OEMs a competitive advantage. We combine deep expertise at the intersection of photonics and motion with a proven ability to solve complex technical challenges. This enables Novanta to engineer core components and sub-systems that deliver extreme precision and performance, tailored to our customers' demanding applications. We deliver highly engineered laser, vision and precision motion solutions to customers around the world. The driving force behind our growth is the team of innovative professionals who share a commitment to innovation and customer success. Novanta's common shares are quoted on NASDAQ under the ticker symbol "NOVT."
Contact:
Andy Larg
alarg@ndssi.com
(408) 754-4255
Source: press release NDS