Mending Hearts
A new device promises minimally invasive repair of a failing mitral valve for patients who cannot withstand surgery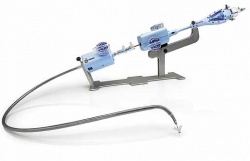 There is nothing magic in mitral valve repair. Yet, for a select group of patients suffering from mitral regurgitation, cardiologists agree there is potential for relief and a higher quality of life with a new procedure.
Patients at a high risk for open-heart surgery who have heard of the success achieved in replacing aortic valves using a minimally invasive technique might think the mitral valve could be fixed in the same way. Unfortunately, this is not the case. A device to replace the mitral valve is still off in the future due to anatomical challenges. What is possible today is a repair of the valve using the MitraClip from Abbott Laboratories to treat both functional and degenerative mitral regurgitation.
Based on experience with 6,000 patients at 150 heart centres worldwide, cardiologists have found the device, which mimics an edge-to-edge repair technique perfected by surgeons, provides a nearly equivalent outcome.
When updating guidelines in August 2012, a joint task force for the European Society of Cardiology (ESC) and the European Association for Cardio-Thoracic Surgery (EACTS) issued a Level IIb recommendation MitraClip for severe symptomatic patients suffering primary or secondary mitral regurgitation. The recommendation is comparable to the level of confidence given to surgery.
In its 2012 Heart Failure guidelines the ESC also considers the MitraClip to be a suitable option on functional mitral regurgitation for patients judged inoperable or at unacceptable high risk for surgery.
Further evidence for the success of the procedure was provided at the ESC 2012 congress by Abbott in the ACCESS-EUROPE real world registry that followed 487 patients, the largest group of patients evaluated to date. A multicentre study of the MitraClip system, the study showed a high rate of procedural success and reported mortality at 30 days was 3.4%, which compares quite favourably with transcatheter aortic valve procedures.
After one year 82% of the patients were still alive.
The procedure is performed under general anaesthesia without the use of a heart-lung machine, and post-procedure recovery is typically one to three days.
As for effectiveness, co-principal investigator Wolfgang Schillinger MD, from the Göttingen University Medical Centre in Germany, reported that at one year 79% of patients were free from mitral regurgitation above Grade 2, where all patients were rated at Grade 3 and higher before the procedure. In a six-minute walk, these patients improved an average of 60 metres, a small but significant victory among this elderly and ill group.
Improvements in quality of life were shown to be a median improvement of 14 points between baseline and one-year scores on the Minnesota Living with Heart Failure Questionnaire. Professor Schillinger concluded that given the 'abundant co-morbidities of these patients,' the MitraClip presents a viable therapy option fulfilling an unmet clinical need. 'Where the benefits of surgery do not outweigh the surgical risks, the MitraClip treatment is an important alternative for patients with mitral regurgitation,' he concluded.
In a follow up discussion, Simon Ray MD, from the Wythenshawe Hospital (Manchester, UK) agreed that ACCESS-EUROPE 'demonstrates that, in expert hands, the MitraClip is feasible and safe with acceptable risk for a complex patients.'
Key to further investigations will be better quantification of valves, and thereby better patient selection the better to assure that patients will benefit from the procedure, he said.
A co-chair for the ESC/EACTS task force on valvular heart disease, Alec Vahanian, from the Bichat Hospital in Paris, praised the quality of the evidence in ACCESS-EUROPE noting that edge-to-edge repair with the MitraClip is appropriate for a select group of patients and that it requires a high level of experience and skill.
'The study shows a treatment exists for these patients, and that it is feasible in the right hands,' he said, adding, 'the alternative is not to treat the patient, or to experiment with other techniques that are perhaps more challenging.'
Beyond repairing the mitral valve a recent study suggests that improved valve performance may help mend the heart.
Salvatore Scandura MD, reported in a recent issue of the Journal of the American Society of Echocardiography that at six months after implantation 77.3% of MitraClip patients showed reverse remodelling, in other words, a positive reshaping of the left ventricle with significant improvement in ventricle size and function.