Medicine and the Internet of Things
According to Gartner, the IT research and advisory company, the Internet of Things (IoT)*, excluding PCs, tablets and smartphones, will grow to 26 billion devices by 2020.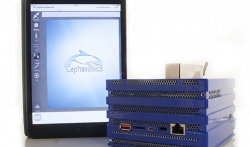 The broadest IoT definition refers to an ecosystem where all types of electronic devices are linked via the Internet. The excluded connected devices will grow to another 7.3 billion units by 2020. Richard Tobias of Cephasonics reports. A main contributor to this connectivity explosion is the medical sector, where potential benefits to patients include improved healthcare access, better quality of care and reduced cost. We'll survey herein a handful of the emerging medical device innovations in IoT.
Mobisante (www.mobisante.com) describes itself as one example of a company that is building a specialised medical device on top of a smartphone. It developed software that allowed a Windows Mobile smartphone to connect to an ultrasound probe via USB, turning it into a functional, portable ultrasound system.
However, the continued evolution of IoT‐driven ultrasound technology doesn't rest on software innovation alone. My first cellular dumb phone was the size of a brick; at that time, the electronics of today's iPhone would have required the capacity of a large filing cabinet. The current iPhone form factor is the result of generations of embedded system reductions in size while increasing capability and lowering cost. Similarly, we believe it will take investment in next-generation custom semiconductor technology to produce miniaturised ultrasound devices with high clinical value.
Disposable wireless solutions that monitor vital signs and physiological information are emerging IoT applications that promise to untether patients and improve workflow for clinicians. Since hospitals and ambulatory care centres are signal-heavy, interference-sensitive healthcare environments, solutions must provide the same link reliability as the current wired cables used today.
HMicro Inc. (www.hmicro.com) developed breakthrough proprietary radio technology, the REACH platform, which combines a standards-compliant radio with a programmable sensor signal processor on a tiny CMOS IC to provide ultra-high link reliability, low-cost disposable battery operation, and low-power energy efficiency in a small footprint at low overall system cost.
Samsung introduced a wearable health technology concept called Simband (www.samsung.com/us/globalinnovation/innovation_areas/). Simband is a reference design platform for development of advanced health tech wrist-based sensor modules. It combines an open sensor platform with an open data platform.
Improved patient diagnosis is a key benefit of remote healthcare. The capability for a remote physician or radiologist to view DICOM (digital imaging and communications in medicine) encapsulated images long distance via a PACS (picture archiving and communication system) has been around for about two decades. However, this setup was missing a critical piece: interactivity between the diagnosing physician and the patient being imaged. Cephasonics developed innovative cQLink technology that enables this crucial interactivity. Exploiting current web technologies, we wirelessly decoupled the user interface from the ultrasound machine. cQLink deploys very light clients, such as the iPad mini, and uses a web interface to store images and patient data on the ultrasound server.
Consider this scenario: the radiographer physically scans the patient with a cQuest-based scanner and uses an iPad mini for scan-parameter control and to view the image. On the other side of the world, a physician can view the live scan, interactively chat with the technician for needed adjustments, or even take over control of the machine.
* The 'Internet of things' Oxford definition: A proposed development of the Internet in which everyday objects have network connectivity, allowing them to send and receive data.
Cephasonics is at Medica Hall 16 / Stand D18-11