Medical Care from Space
ESA's telemedicine projects
Since telemedicine is becoming increasingly important in many medical fields — from tele- homecare to disaster management — new technical solutions and applications are required. The European Space Agency (ESA) is actively participating in several projects across Europe which explore the potential of satellite communication technologies and associated connectivity services for telemedicine, such as the recent simulation of an earthquake disaster on the Greek island of Crete.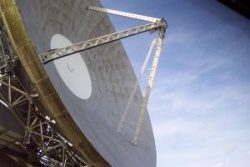 An earthquake devastated the Greek island of Crete: Thousands are injured, all conventional, terrestrial communications have been destroyed and the rescue teams are overwhelmed due to a lack of coordination. The only way to bring order to this chaos is a satellite which, from its altitude of 36,000 kilometres, can immediately link the locations involved in the catastrophe with the appropriate authorities.
This two-day training exercise conducted in the frame of the SAFE project (satellite for health early warning and for epidemiology) is one of ESA's approaches to understanding users' needs and developing tools adapted to those needs. With this knowledge, ESA wishes to support a user-driven strategy allowing for a joint effort in Europe and an improved efficiency for interventions in the event of natural disasters and for post-crisis management.
The simulation on Crete was designed to demonstrate that the satellite system not only supports emergency response coordination but also helps understanding the health situation and monitoring for epidemics. At several sites on Crete, such as a power plant and a hotel, rescue teams were communicating via a satellite network. A dialogue was set up with voice and video between the teams on site and a centre for control and coordination, which allowed a quick assessment of the means needed to set up and facilitate the intervention. Furthermore, thanks to the satellite, specialised doctors could immediately help the teams on site.
Demonstrations like this show that space can contribute to faster and more efficient rescue and assistance, taking advantages of the expertise of specialists from distant locations and offering the possibility of raising alerts in the event of epidemiological risks.
In general, the potential of satellite communication for telemedicine purposes is the reason why the ESA Department of Telecommunication has actively been pursuing activities in this field since 1996.
Currently, ESA is actively involved in several areas of telemedicine such as emergency consultation, tele-homecare, clinical research or medical educational.
For further information: http://telecom.esa.int/