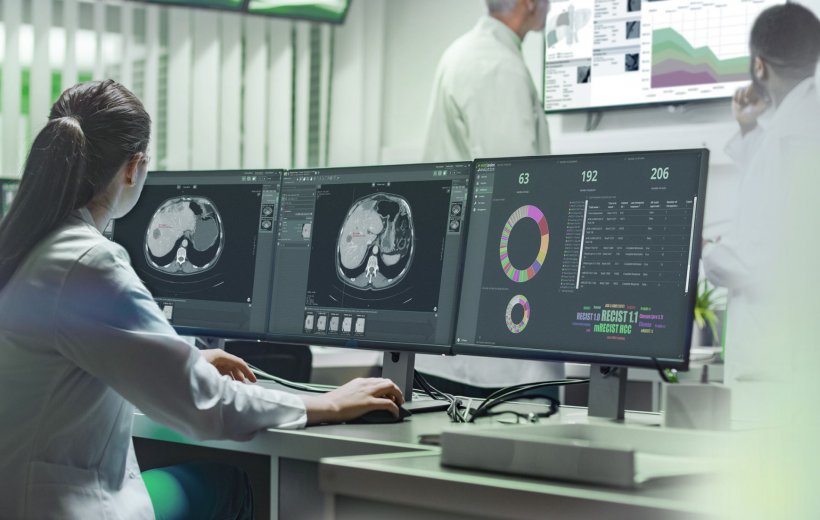 Image source: Mint Medical
News • Digital health company
Brainlab acquires Mint Medical
Brainlab, a digital medical technology company, announced today the acquisition of Mint Medical GmbH, a Heidelberg-based company that develops image reading and reporting software for clinical routine and research.
The acquisition underscores the Brainlab commitment to digital health and aims to improve the structured diagnosis, analysis and treatment of cancer and other diseases to address the demands of modern medicine and personalized treatments.
Mint Medical facilitates the diagnostic process: While working through an image exam, the radiologist is supported in capturing all primary and secondary information that is relevant to the patient's diagnosis and therapeutic decision making. The technology-enabled, context-sensitive way of radiological reporting bridges the gap between the image and the diagnostic report, yielding a structured, yet holistic view on the individual patient's situation and clinical history. "The transformation of our health care system is currently focused in large part on standardizing clinical data through a coding system," commented Stefan Vilsmeier, President and CEO, Brainlab. "However high quality and consistency of such data requires a validated, reproducible, and structured digital process, for which Mint Medical is setting the benchmark."
We are excited about the tremendous opportunities for both our clinical research and clinical routine users

Matthias Baumhauer
Together, Brainlab and Mint technologies will offer existing Mint customers the ability to link data across multiple oncological subspecialties, from clinical oncology to surgical oncology and radiotherapy. Integrating patient-reported outcomes measures (PROMs) from VisionTree, a Brainlab company, will further add valuable longitudinal data to the pool available for analysis.
Mint Medical radiology users will additionally benefit from Brainlab expertise in deep integration with a broad spectrum of standards (DICOM, FHIR, HL7) and within hospital information systems (HIS). Users will benefit from further process automation by extracting pre-existing data to prefill certain fields in the structured clinical forms. Further automation will be achieved by adding Brainlab Anatomical Mapping and context-based AI algorithms to automatically extract information from diagnostic images, more efficiently linking image data with the structured templates. "Brainlab brings to Mint a highly compatible entrepreneurial culture, enabling us to more rapidly enhance, scale, and deploy our technology," commented Matthias Baumhauer, President of Mint Medical. "We are excited about the tremendous opportunities for both our clinical research and clinical routine users".
The acquisition bolsters the Brainlab oncology portfolio by frontloading the treatment planning process with more detailed, structured, and clinically relevant information. During tumor board meetings, participants will gain access to standardized reports on radiological findings to support their discussion on patient-specific treatment decisions. Post-treatment, integrating data from oncology and radiology will enhance the follow-up process through a systematic response assessment. In addition to oncology, other subspecialties like spine surgery will benefit from the technology. Structured radiological reports will allow software-driven comparison and therefore independent validation through multiple experts either in the context of a clinical trial or for quality assurance.
Mint Medical clinical trial users will benefit from Brainlab technology for cloud computing, image data analysis, and patient-reported outcomes measures, putting the patient at the center. Brainlab and Mint Medical aim to jointly improve the technological infrastructure for managing clinical trials as well as large scale registries.
Source: Brainlab
More on the subject:
More on companies: