MEDICA and COMPAMED 2013 keeping pace with the market
Increased emphasis on internationality, positive response to redesign of the conference programme
Good international business contacts are becoming increasingly important for manufacturers of medical technology and medical products.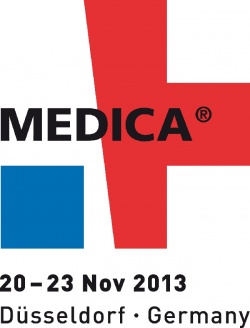 Only those that are well-positioned at the international level are able to balance weaknesses in individual markets and profit in the long run from a market that, seen globally, is growing. That is the key message conveyed after four days of events (20-23 November 2013) at MEDICA 2013, the world's largest medical trade fair, and COMPAMED 2013 (20–22 November 2013), the leading trade fair for the supplier market for medical technology manufacturing. More than half of the some 132,000 trade visitors (2012: 130,600) came from abroad, arriving from more than 120 countries. From the 4,641 exhibitors representing 66 countries, visitors obtained information on the entire spectrum of new products for high-quality, efficient medical care – ranging from medical technology and electromedicine, laboratory technology, physiotherapy products and orthopaedic technology to health IT.
"We have observed a growing number of visitors in recent years particularly from those emerging countries that are especially promising for the medical technology industry, namely from among Asian countries, from India, Russia as well as South America and China," stated Joachim Schäfer, managing director of the Messe Düsseldorf, which has solidly positioned MEDICA as a leading platform for the global "MedTech" business, with an unrivalled level of internationality. This assessment is shared by Germany's leading industry associations: SPECTARIS, ZVEI and BVMed draw attention to the significance of exports in their current market forecasts on MEDICA 2013. According to these reports, international business in the meantime accounts for 68 percent of the almost 23 billion euros in current annual revenues generated by medical technology in Germany. "Not only is the export quota high. Foreign trade is almost the only factor driving growth. "On the other hand, competition in the German market is tough, not least because of the many international players," Tobias Weiler, managing director of SPECTARIS, explained.
The German Medical Technology Association (BVMed) sees purchasing pools as the reason for increasing pressure on prices in Germany. Such concentration of purchasing power is a further market trend reflected at MEDICA. "The number of entities maintaining hospitals is decreasing. Demand is thus becoming concentrated in increasingly larger medical care networks and hospital groups. Consequently, especially high-level decision-makers are attending MEDICA," noted Horst Giesen, director of MEDICA + COMPAMED with Messe Düsseldorf, underscoring the senior decision-making powers of visitors to MEDICA. More than 80 percent play a major role or provide expert advice in purchasing decisions.
Practical know-how for everyone – specialised knowledge for expert groups
To accommodate, through both trade fair and conference events, the continually growing number of international visitors seen in recent years, the previous conference programme was completely revised for MEDICA 2013. The newly planned MEDICA EDUCATION CONFERENCE was well attended on every day of the event. The conference included, on the one hand as a necessary basis, courses providing advanced training on topics for general practitioners and practical training on devices, which afforded national and European CME certification, as well as high-level scientific workshops on focus topics, presented by highly prominent speakers. These presentations, which were held bilingually (i.e. in German and English), featured current aspects relating to gender medicine, infectiology, hygiene and personalised medicine. Among the speakers was Professor Sir John Burn of Newcastle University, one of the world's most highly regarded experts in human genetics.
As has been planned for some time, from 2014 on, the German Society for Internal Medicine (DGIM) will serve as a partner for organising professional aspects of the MEDICA EDUCATION CONFERENCE. With more than 22,000 members, the DGIM is one of the largest professional medical associations in Europe. Commenting on the prospects, conference president Professor Hendrik Lehnert stated: "High-profile speakers from Germany and other countries will present information on innovations in science and technology with relevance for the international community, in this way making the conference a driver of advances at hospitals, in practice and in the industry."
Other offerings at this year's event that were aimed at an international audience, and thus held in English, were the International Conference on Disaster and Military Medicine – DiMiMED, and the MEDICA MEDICINE + SPORTS CONFERENCE, addressing special concerns of sports medicine. As premiers at this year's event, both conferences were extremely well attended and succeeded in closely knitting a transfer of medical knowledge on the one hand with presentations, by MEDICA exhibitors, of related product innovations on the other. Such products include wearable applications for recording vital body data, "anti-gravity" treadmills that support gentle rehab training and, of particular interest for disaster and military medicine, mobile medical imaging systems as well as emergency equipment for on-site first aid.
Hospital Conference and European Hospital Conference
The challenges facing hospital policy were the focus of the 36th German Hospital Conference, held under the general theme of Fair Funding – Hospitals in Need of a Future. In addition to the policy discussion, featured topics included the challenges to nursing care management raised by an ageing population, hospital planning and outpatient specialist care. It was gratifying to see the interest shown in the European Hospital Conference, which took place as part of the event for the second time. Among the topics discussed by the international visitors to the conference was the implementation of patient rights in the context of cross-border health care. Also well attended were the German Hospital Federation's information event on further development of the case-based remuneration system and on the new fee system for psychiatric and psychosomatic institutions. Almost 1,900 visitors attended the German Hospital Conference and the European Hospital Conference.
Movement in the IT market – premium features even at entry level
The innovations presented by MEDICA exhibitors clearly point to the fact that IT is increasingly penetrating the entire health care sector, including the patient sector. Examples include a great number of wireless solutions for real-time patient monitoring as well as compact telemedicine applications designed to be used at great distances from doctors' offices and clinics. The choice of compact, easy-to-use devices for measuring various body parameters is growing rapidly. Data analysis for such devices is provided by matching health apps that run on smartphones or tablet PCs.
Yet, the more sensitive the data transferred, the more pressing the issue of data privacy. Relevant responses to the question were given at the MEDICA HEALTH IT FORUM in hall 15. "Big data" was one of the key current discussion topics. It became clear that physicians and patients for the most part probably feel safe about their data, at least when handled by the telematics infrastructure used for the electronic health card (eGK). In this case patient data are stored at the location where they were kept previously, as printed files – at the doctor's office.
Much attention was paid to the presentation of a hospital information system (HIS) equipped with newly designed features. Under the label of "United Web Solutions", several companies offering specialised software have joined forces to develop a modern, web-based and cloud-ready system. Solutions such as this one might be capable of shaking up Germany's HIS market, which has been described as "seized up".
Another striking feature of the MEDICA 2013 was the large number of medical imaging innovations, particularly in the area of ultrasonics. From a low-priced entry-level device with premium features from the next higher class, to a high-end system for complex applications as an alternative to CT or MRI screening – purchasing managers were able to choose from any ever broader selection of devices.
COMPAMED – platform offering enormous capabilities in the smallest space
COMPAMED, the international trade fair for the supplier market for medical technology manufacturing, was held parallel to MEDICA. With 681 exhibitors from 37 countries, a new historical record was set for the event. The exhibitors presented to the some 17,000 visitors an abundance of technology and service solutions for use in the "MedTech" industry – everything from new materials, components, preliminary products, packaging and services to complex micro system and nanotechnology. The undeniable trend among the displayed products: enormous advances can be packed into the most highly miniaturised components. Examples of this include micro-components and modules for tools used in minimally invasive surgery.
Date of the next MEDICA Düsseldorf: 12-15 November 2014
Date of the next COMPAMED in Düsseldorf: 12-14 November 2014
For more information visit the websites: http://www.medica.de and http://www.compamed.de.
The dates of the upcoming international medical trade fairs presented by Messe Düsseldorf can be found at http://www.world-of-medica.com.