MEDICA 2006
Wilhelm Niedergoeker, Managing Director of the Messe Dusseldorf GmbH, previews this year's events.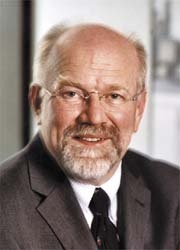 The 38th Annual Medical Forum, which includes the highly international medical trade exhibition and runs in tandem with ComPaMED, the international trade fair for the medical supply market, as well as the German language MEDICA Congress and German Hospital Congress, will be held in Dusseldorf, Germany, from 15-18 November.
In the booming international medical products market, MEDICA – the world's biggest medical trade fair – is the industry's performance barometer. With ComPaMED, the event attracts around 137,000 visitors and over 4,000 exhibitors from 60 nations.

This year, exhibits and special shows will again include MEDICA MEDIA (Telemedicine), MEDICA meet.IT (IT systems), MEDICA VISION (an innovation forum for research institutes and universities) and the physiotherapy forum.

Among the many other highlights will be demonstrations by medical technology and electromedical providers of developments in medical imaging. No other trade fair in the world showcases such a diverse palette of products for use in, for example, ultrasonic diagnosis. Visitors will also be able to test, on volunteers, the latest innovations for improved picture quality. Whether optimised hard- and software, the latest generation of contrast media or the newest transducers, visitors will see the entire range of products at MEDICA.

One latest innovation, for example, is a new laser-based endoscopy method that enables, for the first time, microscopic examination of the digestive tract. This procedure, known as endo-microscopy, provides images magnified up to 1,000 times; until this, the maximum possible level of magnification was 100 times. The process enables images to be generated at cell level – a tremendous advantage in diagnosing problems with the intestinal mucosa and its vessels, and one that would enable considerable reductions in the number of biopsies performed on patients with chronic intestinal complaints.

Such innovations underline why the imaging market continues to grow at a rapid rate. Experts estimate the global market to be 12.5 billion euros and further annual growth rates of at least 4%. The world market for ultrasound alone is worth three billion euros (source: Philips Medical and LBBW). Anyone visiting an ultrasound provider's booth will quickly realise that interest in this topic is not restricted to Germany (with 40,000 machines already in use). The ease of use and relatively low cost of the procedure are attracting interest globally.

If the range of products exhibited is anything to go by, supply is as global as demand – and not only for medical imaging. Together with the medical products sector, this is one field that clearly demonstrates the technical maturity of the market, even in countries where, ten years ago, manufacturers were still exhibiting relatively simple products at MEDICA. Now the show gives the German medical technology and products industry the opportunity to measure itself against high-performing, ambitious international manufacturers. Whether they come from India, China or the Arab nations, these firms no longer sell merely on price. Instead, with manufacturers from South Korea or Japan leading the way, competitive features have become their main selling point.

Honouring top researchers
The increasing number of registrations for MEDICA 2006 from European countries, including Spain, Italy, Austria, Poland and the Netherlands, and the latest statistics from the relevant industry associations, show that the German and European industries are in tune with the Zeitgeist. In Germany around 7% of the industry's total expenditure is on research and development; the proportion of employees is similarly high. These values are the world's highest.

The effectiveness of German research will be evidenced at the MEDICA opening ceremony, when the German Federal Minister for Research and Education, Dr Annette Schavan, will announce this year's winner of the competition Innovation in Medical Technology. The MEDICA VISION show will give details about prize-winners and their projects.

The Lab Technology and Diagnostics sector: 650 exhibitors
What began with simple applications for blood and urinalysis has become a high-tech field. Despite that, today's products and equipment are considerably easier to use. Modern, compact lab equipment for now enable blood, plasma or serum on reagent carriers, or test strips, to be evaluated using the most diverse range of data from organs (even the pancreas), and validity of results are no longer questioned. Increasingly, the time-consuming and costly transport of biopsy material to a central lab can be dispensed with; analysis data is available immediately at the treatment location.

The 'pocket lab' concept of biochip technology will be highlighted. Molecular medicine techniques enable biochips to be used in complex cancer diagnoses and treatments and to determine patients' responses to particular medications. Biomedical tumour marker tests are now available from all leading diagnostics manufacturers.

Whilst current tests are designed primarily for diagnosis during illness, in the future, molecular-medical applications could provide important clues for early detection. Mass spectrometry techniques can increase success in screening blood and other bodily fluids for protein and in identifying their relevance as indicators of cancer.

Bearing such advances in mind, no wonder the lab diagnostics market is extremely dynamic. Although varying by world region, its growth lies between 4 - 7%, with a total volume of around 24 billion euros (Europe approx, 9 billion euros, Germany 1.9 billion euros. Source: VDGH).

IT: Going digital
MEDICA is again the annual trendsetter. Today, experts estimate that hospitals could save up to 30% by using IT, and increasing numbers of leading technology concerns are entering an IT and communications market that, only a few years ago, was the domain of smaller system providers with specialist knowledge.

At the MEDICA meet.IT Forum selected providers will, for the first time, showcase 'Management Information Systems'. These enable costs generated by a patient during the course of a hospital stay to be modelled accurately and in real-time. Previously, this was either impossible or extremely inaccurate, as important cost parameters (e.g. material or personnel costs and reimbursements) can change considerably at short notice. New software solutions, based on integrated database systems, enable a dynamic linking of parameters, right through to the simulation of economic processes. These also enable internal cost assignment. For hospital managers attending the German Hospital Conference at MEDICA, this topic promises many interesting insights.

MEDICA 2006 – and in particular the MEDICA MEDIA telemedicine forum – will also showcase new telemedical infrastructures for controlling 'intersectoral communication', i.e. the flow of data and information between hospitals, healthcare facilities and doctors' surgeries. Fundamental components include electronic doctors' letters and centrally-held electronic patient records (EPRs).
Presently, Germany is implementing one of the biggest IT projects the country has ever undertaken – the cross-linking of the entire healthcare system, and its patients, via the electronic health card – a project estimated to involve a market volume of between 1.4 and 4 billion euros. From the second half of 2006 about 80 million patients will receive a chip card. Additionally, around 200,000 doctors, 21,000 pharmacies, 2,200 hospitals and over 300 insurance providers will be involved. The card is already being introduced in official pilot regions, and initial experiences almost certainly will be heavily discussed at this year's event.

ComPaMED 2006
In 2004, this event – which exhibits assemblies/ modules/ components; drive systems; hoses/tubing; filters; pumps; valves; fittings and technologies for use in the production of medical equipment; raw materials; adhesives; processing; testing systems and verification services; packaging and services – was given its own exhibition hall, and its total exhibition area increased by 53%. In the last two events growth rose by around 15%.

During this, the 15th International Trade Fair for Components, Parts and Raw Materials for Medical Manufacturing, the target is primarily heads of production, R&D departments and other planning personnel. Again there will be a focus on microsystems and nanotechnology. IVAM (the international association of companies and institutes in the field of microtechnology) is organising an exhibition (Hall 8) to feature products from manufacturing, microtechnology, nanomedicine and new materials. Firms will also take part in a 'High-Tech for Medical Devices' forum, supplying information and products for the production of medical technology, microtechnology components and systems, clean room technology, process technology, nanomedical applications, surfaces and material analysis.

While industry specialists visit MEDICA to learn about the latest finished products and equipment for telemedical applications, ComPaMED showcases the innovation behind these new products. For example, last year at ComPaMED, the Helmholtz Institute for Applied Medical Engineering (the AME in Aachen), presented intelligent implants for blood pressure telemonitoring - a chip with a pressure sensor and antennae, used to transmit data and absorb energy. As the entire assembly is only about 5mm long and 2.3mm in diameter, it can be implanted into at-risk patients to constantly monitor blood pressure.

Supplier know-how, as showcased here, is tremendously important, not just for medical technology and product industries, but also for manufacturers of lab technology equipment. Many developments in the 'Lab-on-a-chip' concept would not have been possible without input and solutions provided by suppliers. Important components for the biochip carriers provided by diagnostics manufacturers to process samples contain, for example, synthetic micro pumps to transport sample material and reagents. These were first demonstrated at ComPaMED.
Our new ComPaMED website has a wide range of online services, and the constantly up-dated exhibitor database, in addition to general information, provides online showrooms containing detailed information about products exhibited by participants.