Many more strokes
Even in 2004, the medical costs for the care of stroke patients in Germany came to 7.1 billion euro. The neurologist Tobias Neumann-Haefelin of the Johann Wolfgang Goethe University in Frankfurt and his colleagues have calculated the projected number of strokes in the German federal state of Hesse for the year 2050.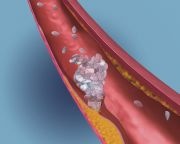 According to the population projections of the state and federal statistical offices, rising life expectancies and falling birth rates will change Germany's demographic structure drastically over the coming decades. In addition to socioeconomic and social problems, the healthcare system will be affected substantially.
In this context, stroke is of particular relevance; even now it is the acute event that results most often in permanent invalidity and need for care. The effects of stroke on the healthcare system are enormous even nowadays. According to a recent study, the direct medical costs of stroke care in Germany in 2004 were 7.1 billion euro, and the lifetime costs per case were more than 43 000 euro.
On this background the number of stroke patients may be assumed to increase appreciably in the coming years.
The study of Tobias Neumann-Haefelin of the Johann Wolfgang Goethe University in Frankfurt and his colleagues is based on a state registry for quality assurance in stroke care in the German state of Hesse and on population projections for 2050 from the state statistical office. The registry aimed to capture all cases of stroke treated on an inpatient basis in Hesse in 2005.
Even though the total population in Hesse will decrease, the number of stroke patients will increase by about 68% by 2050. In particular, the number of patients aged 85 years or older will increase by about 265%. Because of the demographic structure in Germany, major consequences can be expected for the health care system. Even today, stroke is the disease which most frequently leads to permanent disability, necessitating long-term care. The extrapolation to 2050 is based on data from a quality assurance program and on demographic data from the Hesse State Statistical Office. In the intermediate term, health care structures will have to be modified to cope with the increasing numbers of stroke patients. The authors also emphasize the importance of strategies to prevent stroke in older people.
Picture: sanofi-aventis