Article • Celesteion PET-CT
Making a difference with Dual Modality Imaging
The Clinica Creu Blanca Diagnostic Group in Barcelona, Spain, is the first clinic in Europe to use Canon Medical System's new Celesteion PET-CT Scanner. Dr. Xavier Alomar, Head of the Diagnostic Imaging Department at the Clinic, explains how the new system has opened up a large field of diagnostic possibilities for the Group in Metabolic Medicine in Oncology, Neurology, Cardio­logy and Musculoskeletal applications.
The Clinica Creu Blanca Diagnostic Group provides a wide range of diagnostic medical services, with follow up and treatment carried out externally. It has four clinics in Barcelona and two in Aragon in Spain. To achieve the high standards expected of it, the Group employs the latest technologies-applications available, and has an extensive and dynamic team of expert Radiologists and Nuclear Medicine specialists.
"We have 30 Radiologists, three Nuclear Medicine specialists, and more than 40 Radiographers," said Dr. Alomar. "As I am not an expert in this specific area, my own role in the Nuclear Medicine Department is to stay up to date with the latest advances in this specialty, and importantly, to integrate PET and CT modalities into the Department to ensure that our patients have the best diagnosis possible. We have some of the best Nuclear Medicine specialists in Barcelona on our Team: Dr. Francesc Porta, who is responsible for the Department; Dr. Carles Lorenzo, who is specialized in Oncology and Neuro­logy; and Dr. Santiago Aguadé, who is specialized in Cardiology."
Celesteion PET-CT
The Celesteion PET-CT from Canon Medical Systems is the first PET-CT scanner that the Group has ever acquired, and it makes a big difference in their work. "As this is the one of first PET-CT that ­Canon Medical Systems installed in Europe, we initially expected some extra time in the processes of installation and set-up of the system, but positive feedback from others who have already worked with the Celesteion was very reassuring. We are very satisfied with the support given by Canon Medical Systems from the start of the project. Engineers and Application Specialists from Canon Medical's local organization, European Headquarters and Japanese Business Unit were involved, and the Canon Medical Team worked very hard to get the system up and running within schedule," continued Dr. Alomar. "As in the installation of other Canon Medical imaging equipment, we trusted Canon Medical Systems, and I have to say that the Celesteion has proved very reliable and stable from the beginning to this first year of use."

Although the specialist team within the Group have almost 20 years of experience in Nuclear Medicine and have diagnosed more than 40,000 thousand patients, even some of the most experienced specialists required some training in using the new system. "Training our Radiographers in PET-CT was easy, as they were already familiar with CT systems from Canon Medical," remarked Dr. Alomar.

The PET-CT Team at the Group now comprises of Radio­graphers and Nuclear Medicine specialists: Dr. Francesc Porta (Head of Department + Oncology); Dr. Carles Lorenzo (Oncology and Neurology); Dr. Santiago Aguadé (Cardiology); Dr. Antoni Salvador, Dr. Jonathan Taboada, and Dr. Xavier Alomar (Abdominal CT).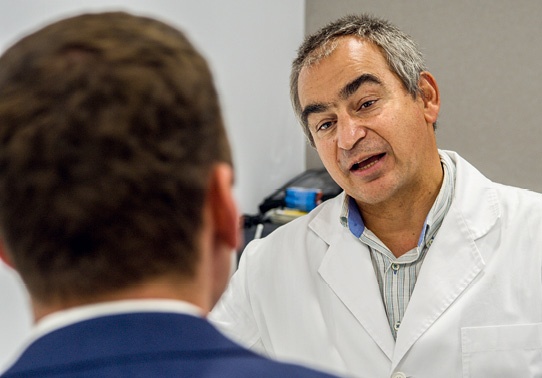 High-quality dual modality imaging for a wide range of diagnostic applications
Now adept in use of the system, the Nuclear Medicine Team uses the Celesteion daily to perform examinations in a wide range of applications. "In Oncology, we use the PET-CT scanner to detect cancer and metastatic lesions, to assess the effectiveness of treatment plans or therapies, and to perform follow-up," explained Dr. Alomar. "In Neurology, we use it to evaluate brain abnormalities, memory disorders, seizures and other Central Nervous System disorders. In Cardiology, we can determine blood flow to the heart muscle, to assess the effects of a heart attack or myocardial, cardiac viability, endocarditis and sarcoidosis. In some areas of the heart, it can help identify areas of the heart muscle that would benefit from procedures, such as angioplasty or coronary artery bypass surgery."

The Celesteion PET-CT scanner is also used to explore new applications in many diagnostic and therapeutic areas. "We continuously seek new applications, such as in lung node characterization, early diagnosis of Alzheimer's disease, and other areas. And we anticipate that new applications involving radio pharmaceuticals will emerge in Cardiology and other disciplines. We are expecting local authorities to approve the use of new radio pharmaceutics soon and see great potential in Nuclear Medicine combined with other modalities in the coming years.

For example, we are thinking of combining fusion images from PET-CT with MRI examinations. In this case, it will be important to have highly accurate registration software." said Dr. Alomar. "In addition, we are collaborating closely with the Canon Medical Team at different levels on developing elements of the Celesteion scanner. We work with the local Spanish Canon Medical organization; the European Team; and with the Japanese Engineers. We have already successfully developed a new Cardiac synchronism, together with the Japanese Engineers."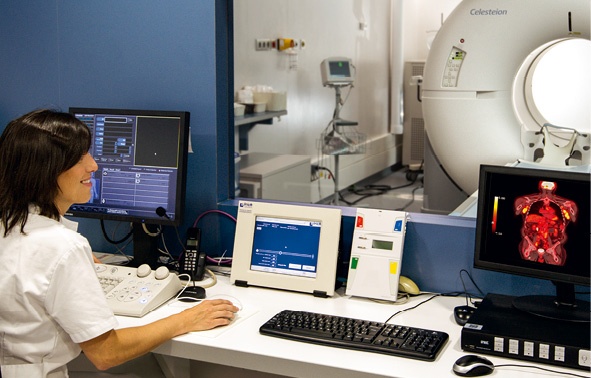 Delivering on the promise to patients
With the ultimate goal to offer accurate and fast diagnostics to facilitate the most convenient treatment for its patients, the Clinica Creu Blanca Diagnostic Group is delighted with its new PET-CT system. "The Celesteion PET-CT brings us new possibilities to deliver on our promise to our patients, as well as improved accuracy, increased efficiency, and more comfortable examinations through a patient-centered design that provides a better, safer patient-and physician experience," concluded Dr. Alomar. "It was a nice surprise to see how easy it was working with the new system from the beginning."

For more information visit eu.medical.canon



More on the subject:
More on companies: