LED colour displays for diagnostic use
The Japanese Display vendor Totoku has extended its i2 line-up with a two and three megapixel display. 'The CCL258i2 and CCL358i2 are high brightness colour displays with a very high contrast ratio,' the firm explains. 'That's why both can be used for primary diagnosis or critical applications like thorax exams.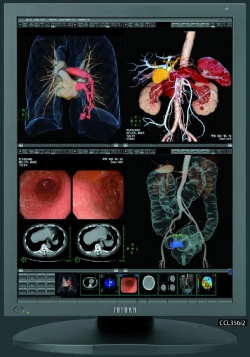 These are the first colour models with the new LED backlight, providing ecological, financial and qualitative benefits, Totoku points out. 'Compared to CCFL monitors, LED displays save up to 20% electricity and have a longer life span by about 30%. This has a positive effect on the budget of the user. Furthermore, the CO2 emission decreases due to reduced energy production.' Specifically, the displays use 15% less power than their predecessor, with almost double the lifetime and disposal is much more environmentally friendly, since LEDs don't contain critical elements such as mercury, Marcel Herrmann, Marketing Manager at Totoku Medical displays, sums up.
In addition to ecological benefits, due to the newly developed power supply of the i2 series, standby power consumption has been reduced by 80%. 'Together with the backlight dimming function hard cash is saved,' Totoku points out.
All new i2 models offer the new display port interface. 'This enables the user to connect not only DVI signals or video cards, but also the latest Display Port cards from various vendors, for example Matrox, ATI and NVIDIA. Another benefit from Display Port is the improved greyscale reproduction,' the company continues. 'Display Port offers, for the first time, true 10-bit greyscales on a colour display and true 11-bit for the greyscale products.

More on the subject:
More on companies: