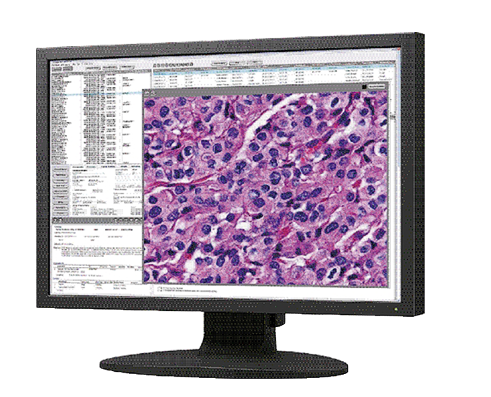 Totoku
Article • New display and calibration kit
Accurate colour augments pathology diagnostics
Digital pathology places particularly high demands on image quality and thus on monitors. Especially the exact colour rendering is a challenge – no other discipline needs such precision for a reliable diagnosis. To that end, following 'intensive research and development', JVC Kenwood has launched the JD-C240, a 24.1-inch colour monitor.
Special contrast enhancement
'We are drawing on many years of experience in the professional video sector, especially regarding colour calibration and adjustment,' Marcel Herrmann, Marketing Manager for Totoku at JVC Kenwood, pointed out.
The JD-C240 has some new, innovative technologies, including contrast enhancement, which was developed specifically for imaging in pathology. Usually, such technologies only improve the contrast and the dynamics, but this leads to a less realistic image reproduction, the company points out. 'To avoid this, we have taken a completely new approach,' Herrmann says. 'The contrast enhancement recognises transitions like structures and improves them. The rest of the picture remains untouched.'
The colour enhancement gives the user full control over colour reproduction. So far, only red, green and blue can be adjusted. 'With our monitor, users can select any colour from RGB or CMYK and adjust the colour saturation, hue and brightness,' Herrmann explains. 'In addition, a tolerance for the settings can be specified for each channel.'
Same colour impressionon all displays
However, to take full advantage of the monitor's possibilities regular calibration is important – particularly for pathology the display must reproduce unadulterated colours. It is important that all monitors within a workflow display the characteristics the same. 'All of this is supported by our new calibration kit CAL016 on the JD-C240,' Herrmann points out. 'For the first time, we'll be able to profile all displays within a hospital and thus ensure a uniform image impression across all departments.' The CAL016 also supports the 3-D Look Up Table of the JVC JD-C240.
More on the subject:
More on companies: