Laparoscopy in urology
Concerns are being raised across Europe that not enough urologists are experienced in laparoscopy to meet growing demands of patients. Mark Nicholls reports.
Laparoscopy is playing an increasingly important role in urology and centres of excellence have been established to provide training in urological laparoscopic surgery.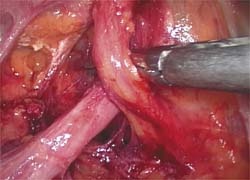 However, increased patient demand for the latest minimally-invasive techniques means there is still a potential shortfall in urology laparoscopists in Europe.
Robot-assisted surgery may help ease the situation, though many leading urologists are not yet convinced either of its cost-effectiveness or ability to offer outcomes better than regular laparoscopy.
According to Per-Anders Abrahamsson, Secretary General of the European Association of Urology, 'There are more demands from patients for minimally-invasive and laparoscopic surgery – with or without robot- assistance. That has been increasing exponentially in the last few years in many European countries.'
Laparoscopic urology surgery began in the mid-90s in America but was dropped because it was considered too time consuming to suit the needs of the US reimbursement system. In turn, French and German urologists took up the discipline and have become world leaders in developing the role of laparoscopy in the treatment of urological disease and tumours. Professor Abrahamsson, who is Chairman and Professor of the Department of Urology at Malmö University Hospital in Sweden, said: 'There is an unmet need in many countries in Europe and we have to teach more urologists in terms of laparoscopy.'
The EAU, through its European Urological Scholarship rogramme (EUSP), and the British Association of Urological Surgeons (BAUS) have established laparoscopy training programmes for urologists.
A study of residents' laparoscopic surgery training co-authored by Dr Stephanie Kroeze of the University Medical Centre, Utrecht, concluded that laparoscopic training needs to be improved but highlighted laparoscopic virtual reality simulation as helping meet that need in urological surgery.
Frank Keeley, a consultant urologist at Bristol Urological Institute in England, said: 'Urologists have been slow to develop laparoscopic expertise because there is no procedure which is relatively straightforward. As a consequence, the number of expert surgeons acting as trainers has been small.'
He said urologists had to develop their surgical expertise 'on the job' and after they had completed formal training, and added: 'The impact on hospitals is fairly obvious: many surgeons do not offer laparoscopic surgery; open surgery involves longer hospital stays and more blood loss than laparoscopy.'
Laparoscopic surgery utilises different skills to conventional surgery, but Mr Keeley believes there are clear advantages. 'Patient quality of life after laparoscopic surgery is higher, and many patients now ask whether their operation can be carried out laparoscopically,' he said.
'Once the surgeon reaches the required level of expertise, he should have more job satisfaction and fewer postoperative complications.'
In urology, operations that laparoscopy most benefit include nephrectomy, adrenalectomy, and pyeloplasty because an upper abdominal or loin incision can be very debilitating.
Although some centres are using robotic equipment for urological procedures, some surgeons have reservations about whether the technology provides better clinical outcomes than regular laparoscopic surgery.
Dr Vincent Ravery, professor and chairman of the Department of Urology, Bichat-Claude Bernard Hospital, Paris, and Chairman of the European Society of Oncological Urology, said that a problem in gaining a consensus on the value of robotic surgery is that circumstances differ from one European country to another. 'In France for instance, this issue is not prominent because the pure laparoscopic surgeons are skilled enough to proceed without robots but in other countries, in which regular laparoscopic procedures are not as regularly carried out, the robot is probably more important.'
Urologists say the robotic issue is often commercially driven with suppliers encouraging hospitals to take advantage of the technology, without any widespread clinical investigation of its effectiveness.
Dr Ravery added: 'The issue is also driven by the patients who come to us asking for the robots without any rationale but at this stage we are not sure that robotic surgery dramatically improves on the oncology and functionality of regular surgery.'
However, urologists acknowledge having the option of robotic surgery makes it easier to attract patients and for some complex procedures the robot may be more effective, especially with a radical prostatectomy.
Advantages of robotic surgery include the surgeon being seated and having a three-dimensional view of the operating field. Robots are also effective for remote surgery being used by a surgeon in one centre to operate on a patient in another hospital.
But with the machinery costing millions to purchase and maintain, Dr Ravery says this is another factor in deciding whether to go down the robotic route: 'To invest at this level we have to be sure that the oncological results are at least as good as using other procedures. So far, we are not sure.'
At present the main robotic system available is the da Vinci, but the Chinese are developing a robot that could be commercially available within the next few years and, with greater choice through competition, the cost could decrease.
The da Vinci makers say there are benefits of robotic surgery – for the surgeon of magnified 3-D visualisation, increased precision, tremor filtration and improved access to and manipulation of organs, tissues and nerves, and for patients shorter hospitalisation, reduced pain, faster recovery times, and quicker resumption of normal activities.