IT is making surgical procedures safer
Image guidance and information management are turning into essential components of operating theatre workflow. Integrating the operating theatre (OT) with the help of IT systems positively affects many aspects of surgery – including its safety.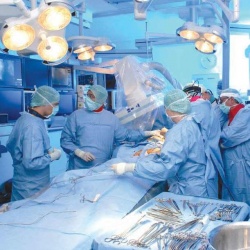 The right handling of patient data flow and communication '…is crucial to containing human error, and to limiting effects when errors do occur,' according to Andrea Pietrabissa MD, Director of General Surgery at Policlinico San Matteo, University of Pavia, Italy. 'Risk managers know that a digital OT is a much safer place than a paper-based one.'
Modern medicine, including surgery, would not exist without advanced imaging. Today, both diagnosis and treatment are imagebased and image-driven, he added. Just like in other hospital, before surgery most of the patients at the Policlinico San Matteo undergo examinations with one modality or more – not only for disease diagnosis but also for surgical procedure planning. Some 30 years ago, intraoperative imaging became popular with the advent of ultrasound, which is now routinely used during procedures, e.g., to identify the size and position of liver tumours, as well as to detect the main intrahepatic vessels. Laparoscopic ultrasound helps to stage GI cancer and detect occult pancreatic and liver tumours.
Hybrid OTs
Increasingly OTs will become hybrids, i.e. integrating a radiological suite and a conventional surgical room … a shift seen in vascular surgery, Dr Pietrabissa pointed out. As for today, intra-operative imaging is still largely limited to C-arm X-ray and ultrasound; CT and NMR are limited due to environmental constraints and incompatibility with metal instruments. A deeper integration between preoperative studies and intra-operative images can already be realised and image fusion should be considered when new OTs are designed, he advised. The major IT-based development in general surgery OTs has been robotic surgery.
The advent of 3-D
Dr Pietrabissa believes that image fusion will take place inside the 3-D display of new robotic systems, adding that visualising the biliary tree is among today's success stories. New dyes and new camera detectors are under development, and intra-operative guidance with markers will soon be available for cancer detection and lymphatic sampling.
Challenging barriers
Existing systems within the OT are closed environments today. Proprietary solutions that do not connect with HIS or PACS do not allow for the integrated, seamless flow of information that promises to deliver the envisaged benefits. Now on the market are solutions to integrate video and audio within a network, to set up, manage and monitor data.
Decision makers should understand costly investments
Digital image acquisition and reading has gradually replaced conventional technology in radiology. Recently, digital image management has started to expand to further departments and disciplines. Interdisciplinary image sharing is now taking place alongside intensified collaboration of radiologists with other clinicians in order to plan for and guide interventions. In the OT, image and information management can significantly support outcomes; however, it requires large investments. In order to ensure that investments will indeed result in the expected improvements, an understanding of workflow and complex image management infrastructures is required on the part of hospital decision makers.