Invigorating Medica Education Conference
With around 140,000 visitors annually, Medica is doubtlessly the showcase for medical manufacturers.
Interview: Brigitte Dinkloh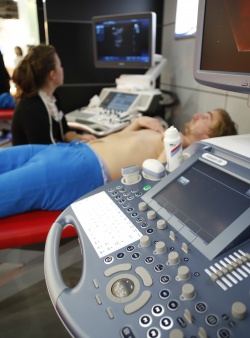 However, although the world's largest medical fair, the venue is not yet very well known for continuing medical education. This is set to change. With the re-orientation of the Medica Education Conference (MEC) in collaboration with the German Society for Internal Medicine (DGIM), the organisers are hoping for a bigger response and an increased number of visitors.
We asked Congress President Professor Hendrik Lehnert, Director of the Medical Clinic 1 at the University Hospital Schleswig-Holstein, Campus Lübeck, about his expectations and the programme design.
Explaining how the collaboration with Medica evolved and the importance of the congress for the DGIM, Professor Lehnert said that Messe Dusseldorf sought a new partner for the Medica Education Conference and the DGIM submitted its tender. 'It must have impressed the organisers because we were selected,' he explained. 'We are very pleased to be organising this conference because it gives us an opportunity to prove that we can organise another, large congress with a different aspiration and bigger target audience, alongside our own annual Internal Medicine Congress in Wiesbaden.
'This is a very exciting opportunity and challenge to go beyond the bounds of internal medicine, to work in an even more interdisciplinary manner than before and to design a programme encompassing many neighbouring disciplines, from surgery to radiology and pathology.'
Asked about the interest shown to date and the potential number of participants, the professor explained that the application procedure is continuing, so there is no popularity indication as yet. 'We are hoping for more than 2,000 participants – a good start for us and significantly more participants than in previous years. In the long run we are aiming for between 8,000 and 10,000 participants,' he added.

How can that ambitious target be achieved? Prof. Lehnert pointed out that the high quality conference programme is structured in a completely new way and that the organisers have gathered outstanding national and international speakers. It is also backed by advertisements in the specialist press and in daily newspapers.

'Overall, the conference is definitely set to become more international. As yet the English language part of the programme is only about 10% of the total; however, in the future, the plan is to develop a successive transition from German to English as the congress language. To date, education has tended to be side-lined by the large fair; with 140,000 visitors the smaller training and education part has definitely been dwarfed by the exhibition.' He expects change and that the MEC will become very successful.

'There are four superordinate key topics, which have been laid out as broad and transdisciplinary as possible.' For 2014, these are infection and inflammation, telemedicine and robotics, gastrointestinal oncology and interventional medicine, involving representatives from many other disciplines, such as surgeons and radiologists. 'We have a very diverse programme committee who will also cover areas beyond the expertise of internal medicine. Gastrointestinal oncology is obviously a classic topic within internal medicine, but it is also complemented by surgery and radiology. The key topic interventional medicine strongly involves gynaecology as well as urology.

'We have obviously ensured that the expertise of the programme committee members is taken into consideration. A clearly structured daily timeline with standardised parallel events provides all participants with a diversified, all-day scientific education in combination with a visit to the exhibition.
'In the first instance the programme is naturally aimed at doctors and interested company representatives, but there are also some programme points that will interest other medical professions.'
10-15% of the programme will be practical seminars and hands-on courses to include, for example, ultrasound seminars, nutrition, endoscopy and diabetes.
Although an hour a day has been set aside for industry symposia, so far there has not been much participation. 'However, this is not decisive for the success of the congress,' the professor noted, adding that there will be industry symposia on laboratory medicine. 'Many are probably waiting to see what the first MEC under our management will be like and then decide to participate next year. Our annual congress includes around 40 industry symposia and I'm sure this kind of participation will develop for the MEC as well.'