Intelligent textiles
The latest textile technologies go along with fabric integrated sensors, or computers, to measure e.g. the functioning of a patient's cardiovascular system.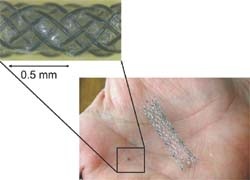 At a recent forum run by 'Innovative Bavaria', in Nuremberg, the economic potential of this business sector was obvious. The worldwide market for medical technology is worth €184 billion; the turnover in Germany alone is €13.6 billion, and €0.6 billion of this is for medical textiles, all of which explains the number of projects currently promoted in that field.

Current trends lie in developing 'functionalised' surfaces, using new materials and coating technologies as well as integrating active ingredients. Work is also progressing to develop extremely light, highly breathable, elastic, water-repellent as well as absorbent textiles, as barriers against infectious agents and solid particles without releasing any themselves.

Apart from sensor technology, research is also being carried out on the use of radio frequency identification technology (RFID) integrated into textiles. This technology supports hospital logistics, for instance the location of equipment, or even people.

At the forum, the Institute for Textile Technology (ITA) at the (Rhineland-Westphalian Technical University (RWTH) Aachen introduced a 'shape memory' principle, using polymers to create surgical thread for use in minimally invasive surgery; these could tie themselves together unaided, and also be used as drug delivery systems. Also described were shape memory alloys, whose characteristics adapt to their surroundings by changing temperature, through mechanical tension, electromagnetic radiation or changes of the pH-value, such as hand-woven stents or woven blood filters.

Ethicon, a subsidiary of Johnson & Johnson, is researching the development of mesh for human use. In 2005, the firm won the 'Best Innovator 2005' award, organised by the management consultancy A T Kearney and business journal Wirtschafts-Woche. The criteria critical to the development of surgical mesh are: biocompatibility; safety in terms of tissue compatibility; effective functionality; patient comfort; mechanical stability and sterilisation. Following the advent of textile mesh implants for abdominal wall ruptures the relapse rate significantly lowered. Modern, lightweight, large-pored mesh, made of partially absorbable composite materials, result in far greater comfort for patients because the implants no longer harden.

Textile implants
Textiles play an increasingly important role in implants, along with nano-silver as a coating agent, because even very small doses it is effective and active against a broad spectrum of micro-organisms. So far, hardly any cases of resistance have been seen. Near Stuttgart, the Institute Textile Technology and Process Engineering is researching textile stents that release silver over long periods; partly absorbable mesh to repair hernias, and hernia mesh coated with titanium, all of which evoke fewer infections.

For regenerative treatments, fibres and textiles are set to replace current metal parts. Knee cartilage, for instance, will be regenerated using cells, biomaterials or cytokines.

Researchers are also engineering tissue to replace other kinds of tissues and organs. Keyword: biohybrid liver. Until new tissue grows in the liver, the organ is temporarily supported by fibres. Keyword: absorbable materials. Damaged nerves are gathered into an absorbable tube until healed.

Multifunctional textiles and comfort
3-D textiles offer pressure-relief due to their pressure elastic and aeriferous intermediate layer. Breathable and heat regulating, these are particularly suitable as medical textiles, e.g. to prevent decubitus or as dressings during intensive care.
A fine, complex, elastic tissue, consisting of coated threads with sensor characteristics, promises manifold applications. There is no need for woven-in sensors to measure pressure on 3-D changeable surfaces - the thread accomplished this. An example for application would be to treat diabetic foot syndrome (DFS) - many amputations could be avoided through optimum shoe fitting. There will also be applications for textile reporting systems for intensive care and rehabilitation.
Speaking for the Philips' Aachen research laboratory, which taking an IT and communication technology approach, Harald Reiter introduced MyHeart, currently Europe's biggest cardiovascular disease (CV) project, budgeted for €35 million and spanning 45 months. 20% of all Europeans suffer a chronic form of cardiovascular disease, causing 45% of all deaths. 33 partners in hospitals in Spain, Italy, Portugal, the US and Germany, along with universities and firms working in this sector, have united to develop different sensor-coated fabrics that could monitor body functions in daily life, immediately processing measurements without the need to transmit data. Although, within different modifications of the system, there would be phone or computer contact with a care network.

MyHeart is supported by the EC, DG Information Society & Media and ICT for Health Unit.