Sponsored • Women's health
Improving Workflow and Patient Care Through Innovation
Groundbreaking technologies have improved our ability to accurately diagnose breast cancer and reduce callbacks, focusing on compassionate care for patients as they move along their breast health journey. As healthcare providers, we must assess the benefits of new technologies in terms of workflow including any added workflow challenges that might inhibit our primary objective of early diagnosis.
Global champion for women's health Hologic is supporting healthcare professionals to align their own workflow with patient access through our ecosystem of advanced technologies that integrate across the breast health continuum of care. When used together, these technologies provide a more comfortable patient experience, greater clinical confidence and business efficiencies that improve workflow.
Improved cancer detection and reduced Interpretation Time
Fast, accurate diagnosis is key to compassionate care for patients; however, as imaging technology improves, radiologists have increasingly more images to interpret. Artificial intelligence (AI) offers unique solutions to this challenge that will help speed up reading times as well as efficiently evaluate images and flag areas of concern.
Recent research suggests deep learning AI can augment radiologist performance and act as a second reader for most scans, helping to shorten the time between exams and diagnosis by analysing images using advanced and diverse datasets.
While AI systems may have fallen short in the past, Hologic's Genius™ AI technology uses improved aggregated datasets compared to previous generations. The software can now identify calcifications, architectural distortions and masses, and then highlight these findings of interests in real time. This advanced technology can help radiologists focus on the high-priority cases that need quicker attention.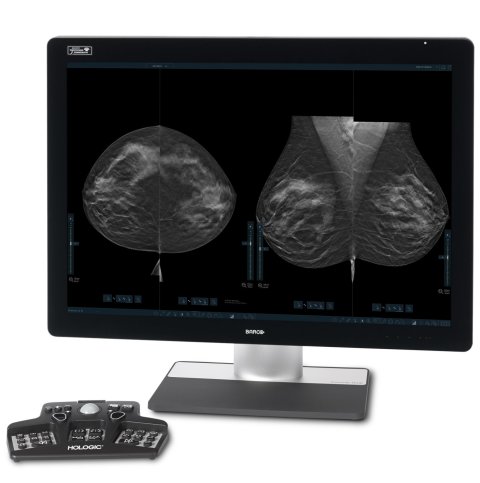 The adoption of tomosynthesis combined with AI technology's such as 3DQuorum also presents opportunities both to further improve cancer detection and to create better efficiencies in workflow. 3DQuorum technology utilizes Genius AI-powered analytics to uniquely reconstruct high-resolution 3D Mammography data to produce 6mm SmartSlices. This technology reduces the number of 3D images to review is reduced by two-thirds1,2, leading to an average interpretation time savings of one hour per day, based on eight hours of image interpretation time per day.2,3
For radiologists this reduction in the number of images they have to review, besides saving time could also help reduce reader fatigue and improving reading workflow. For women, this could mean earlier cancer detection and better treatment options in the longer term as AI will support a move to more personalised medicine.
Integrated Technologies
Breast biopsy procedures provide life-saving diagnosis of lesions and calcifications and are one of the most important tools in the continuum of breast care for patients. They are an integral part to the diagnostic process. Traditionally, breast biopsies can require more than a dozen samples without assurance that a specimen has been acquired. During this time, radiologists need to leave the patient in compression to image samples for a confident diagnosis.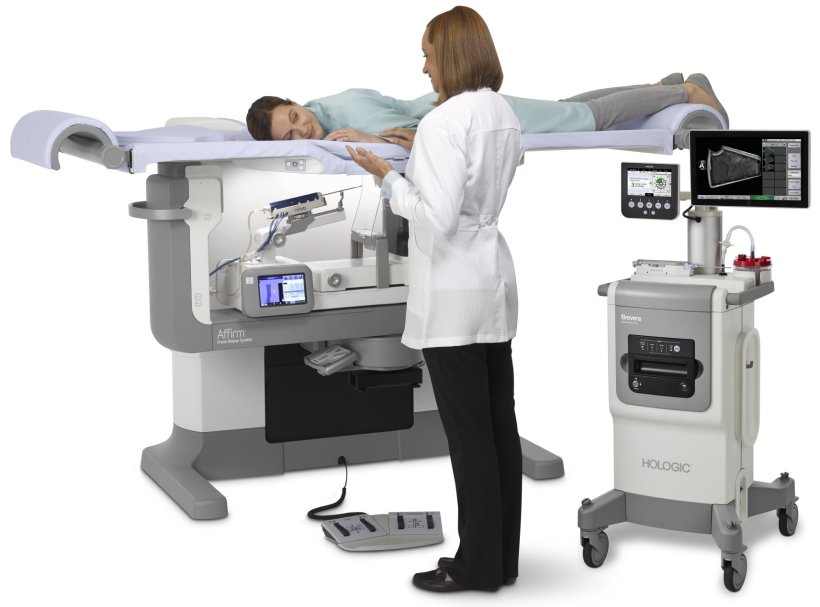 Hologic's Brevera Breast Biopsy system is the world's first and only breast biopsy solution to combine vacuum-assisted tissue acquisition, real-time imaging, verification and advanced post-biopsy handling—all in one, integrated system.4 The system enables radiologists to view samples through real-time imaging that enables confidence in tissue acquisition – all without the need to handle specimens or leave the patient during the procedure. The innovative design of the system enables procedural steps to be reduced from eight to five, which means ten minutes on average saved per patient. This means less time under compression for the patient and more time back for the radiologist enabling them to see more patients.5,6
Improved Image Quality
Digital specimen radiography provides the imaging answers we need to diagnose and ensure proper removal of suspicious lesions following procedures. However, clear, high-resolution images are key to these answers.
Hologic's Faxitron Path+ system provides optimal imaging for large or thinly sliced specimens, resulting in fewer re-cuts. Designed with field-of-view guides and automatic position detection, the Faxitron Path+ system can image down to the smallest microcalcifications. With its automated exposure settings, pathologists can ensure the highest image quality of breast tissue slices to bone decalcification, which allows for more accuracy and faster report generation.
With Hologic's innovative technologies, healthcare professionals can save time and energy through integrated hardware and software solutions that work together across platforms to help ease the patient journey and create an ecosystem for personalized care.
Find out more: https://www.3dimensionsmammography.eu
References:
1 MAN-06029. 3DQuorum.
2 MAN-06153. Dimensions Breast Tomo
3 Hologic data on file. CSR-00116
4 Hologic Data on file. VAR-05326 Brevera Unmapped Requirements Verification & Validation Report Attachment, Name - VAP 03172. Section: Test Data Summary, page 12,18
5 MISC-07678-EUR-EN_001_01 Brevera pulse wave 2 report inspired insight 2019, section: appendix wave 2, table, page 19
6 MISC-07662-EUR-EN_001_01 Foundational Research For Breast Imaging And Biopsy - Kadence - March 2015. Section: Stereotactic Biopsy Workflow & Challenges, page 25
More on the subject:
More on companies: