Improved A&E Workflow with Carestream Health DRX Evolution
Worthing Hospital, on the south coast of England, has installed a CARESTREAM DRX-Evolution dual detector room in its busy Accident & Emergency (A&E) department. The new modular system, with its cassette-sized wireless detector, floor rail and full auto positioning, replaces the existing analogue room.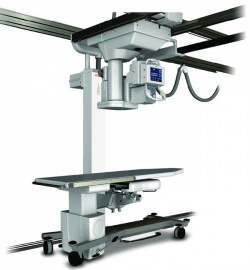 The Hospital is part of Western Sussex Hospitals NHS Trust which serves a population of around 450,000 people living in a catchment area covering most of West Sussex. It is a general hospital with more than 500 beds, providing a full range of general acute services including A&E.
"The previous analogue room in A&E was coming to the end of its useful life," explained Phil Hassman, Radiology Services Manager at Worthing Hospital, "So we took the opportunity to continue our move towards digital. When we saw the DRX-Evolution we immediately recognised its almost limitless flexibility, which seemed to be an ideal solution for our busy A&E room."
The CARESTREAM DRX-Evolution combines the world's first wireless cassette-sized DR detector, the CARESTREAM DRX-1, with modular components, allowing hospitals to custom design DR rooms which are easily installed and suit individual workflow and budget. "The process of installation was extremely straightforward and went without a hitch", added Phil Hassman. "Our workflow is already improving and, with all radiology departments under increasing pressure, the improved throughput of the DRX-Evolution will help us meet the demands placed on us."
Since upgrading the existing analogue room, the flexibility of cassette positioning is a clear advantage, eliminating the need to move patients around a fixed DR detector. The two DRX-1 detectors allow radiographers at Worthing to perform a wide variety of general radiography examinations, including trauma, with remarkable convenience, productivity and patient comfort. "The new system involves different ways of working and different techniques," said Phil Hassman, "but the radiographers love it. I've had no negative feedback at all."

More on the subject:
More on companies: