Implantable cardiac devices
Evaluating the efficiency of centralised cardiac monitoring
Patients with cardiac implantable electric devices (CIED) need ongoing and lifelong follow-ups. Due to the growing number of CIEDs, the demand for follow-up visits is increasing rapidly and already pushing clinics to maximum capacities.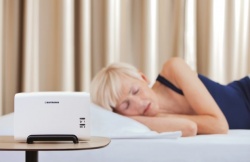 Inconsequential, non-actionable visits are of particular nuisance to both physicians and patients. Today, follow-ups can be done remotely through remote cardiac monitoring, which eases clinical routine and allows patients to obtain treatment as soon as needed, further leading to safer and more efficient patient management.
Clinical studies like TRUST (2010: Varma et al., Circulation 2010 and Circ Arrhythm Electrophysiol); COMPAS (Mabo P. et al., Eur Heart J 2012), REFORM and ECOST have proved that remote monitoring is a safe and effective tool in assessing the patient's medical status. Studies have also demonstrated that satisfaction with remote monitoring is very high among both patients and physicians. 'Biotronik Home Monitoring is regarded as the most user-friendly system because it does not require any patient interaction in order to obtain data,' the manufacturer reports. 'Instead it delivers alerts to the clinic in an easy-toassess traffic light system.'
The claim that Home Monitoring reduces in-office follow-up visits is supported by several independent randomised controlled trials for both pacemakers and ICD's (implantable cardioverter defibrillators) and has also been confirmed by observational study data. In 2009, the Biotronik Home Monitoring system received specific FDA and TüV approval for its ability to replace in-office visits safely, and to detect health issues and device-related issues earlier, allowing for timely medical intervention, the company reports.

Time and cost reduction for clinics
Home Monitoring cuts the number of in-office visits by around 50%. The RCT's for Home Monitoring consistently report a reduction in in-office follow-ups as follows: 45% (TRUST), 55% (COMPAS), 63% (REFORM).
In addition, routine remote follow- ups can be carried out in a third of the time needed for conventional clinical follow-ups. Fewer in-office follow-ups also result in reduced patient travel time and costs, and reduced patient waiting times (Charles et al., 2007).
Recently the MoniC (Model Project Monitor Centre) study has evaluated the efficiency gains in clinics using Biotronik's system, the company reports. 'Results of the study showed that centralised Biotronik Home Monitoring is reliable, beneficial and efficient: basic screening and communication of relevant arrhythmic and technical events required a total of 1.1 minutes of a physician's time and 30 minutes of a trained nurse's time each day per 100 patients monitored by the centre.'
'MoniC underlines the all-around positive impact of Biotronik Home Monitoring has every day in our study clinics,' commented Christoph Böhmer, the company's International President. 'This trial clearly demonstrates the large potential for efficiency gains and therapy improvements, which are important parameters for healthcare decision makers. It's a clear win-win for both patients and physicians, no matter what size the clinic.'