Imaging in a major trauma unit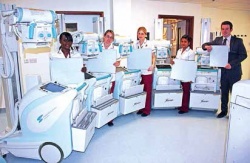 In Portsmouth, England, the prestigious Queen Alexandra Hospital has been using a MobileDaRt since its 2009 opening. Recently, this unit was joined by five 4th Generation siblings, three incorporating the latest CXDI- 70C wireless digital imaging detector, the other with the unique CXDI- 80C wireless, small format detector. Both detector types offer exceptional direct digital images within three seconds at the point of care. With major trauma unit status, the hospital is part of a national project to improve that field of care. Thus high quality X-ray images are needed to meet and respond to the changing demands of medics in emergencies.
'Replacement of our mobile fleet required equipment that could travel the large distances in our hospital, while providing almost instantaneous diagnostic images to our clinicians,' explained Nicola Sanchez, the hospital's Advanced Practitioner Radiographer. 'We also need versatility in imaging our wide range of patients including NICU. The DaRt Evolution was the only unit that fulfilled all of these necessities.' In March 2012, Portsmouth Hospital NHS Trust appointed Gloucestershire-based Xograph Healthcare, an independent UK medical equipment provider and Shimadzu's exclusive sales partner for digital mobile X-ray in Great Britain, to supply the new mobile digital X-ray systems for rapid radiographic imaging in the ER, at the bedside and in the Neonatal Care Unit. 'It was the right decision,' Nicola Sanchez concluded.