News • Radiation therapy QA
IBA steps forward in online treatment monitoring
After successful validation of Dolphin interoperability, online patient dose measurements during actual treatment delivery will enable verification of the correctness of each treatment fraction.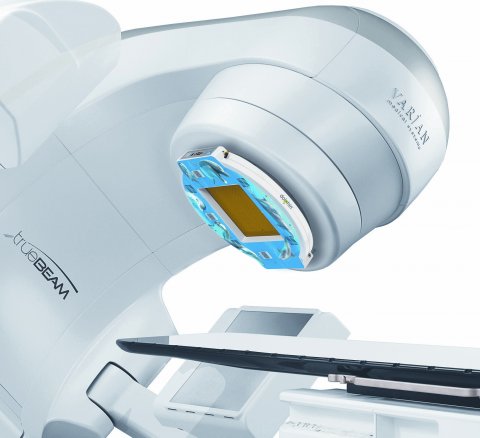 IBA (Ion Beam Applications S.A.), the world's leading provider of proton therapy solutions and radiation therapy integrated quality assurance (QA) for the treatment of cancer, announces that it has entered into an agreement with Varian with the goal of validating the Dolphin transmission detector for online monitoring of patient treatment.
With the health, security and safety of patients in focus, modern radiation therapy has become highly specialized, which has led to different complex treatment techniques being developed and used daily in patient cancer therapy. This in turn requires new and comprehensive QA solutions that address the growing number of possible sources and impact of dose deviations, in particular for high-dose cases.
For online patient plan monitoring, IBA Dosimetry is set to release the Dolphin online solution with its COMPASS 3D verification software, and has therefore entered into an interoperability agreement with Varian.
The Dolphin online functionality enables the measurement of each fraction dose and the verification of the actual radiation dose delivered to patients. The ability to measure treatment accuracy fraction by fraction will provide the confidence and safety needed to deliver the highest quality of care to the patient.
Dolphin includes the following five checks for verification of the complete treatment chain:
Real measurement of the plan delivery. In contrast to solutions that purely recalculate the patient plan via log files, the Dolphin advanced high-resolution ionization chamber detector array enables real measurements of each fraction dose and detection of errors in treatment delivery, such as beam line defects, MLC deviations, dose rate changes, flatness/symmetry drifts, gantry positioning errors, etc.
Verification of the real patient plan where no surrogate QA plan is required.
Secondary dose calculation with TPS-class algorithm. Secondary verification of the treatment planning system (TPS) dose calculation enables detection of errors in the TPS algorithm, TPS performance, or in the TPS export.
Machine constancy checks with myQA. In addition, Dolphin's detector array is optimized to find deviations and trends in LINAC constancy for profiles, output and wedge factors.
Independent verification of the treatment planning system. The independent beam model of Dolphin's verification software enables detection of errors in the TPS configuration and performance, its beam model, commissioning, or the LINAC calibration
Dolphin is currently in clinical use around the world for advanced measurement-based pre-treatment patient QA.
More on the subject:
More on companies: