Hospital Build & Infrastructure Europe
Around 2,800 visitors are expected at this year's international Hospital Build & Infrastructure Europe (HBIE) fair, where presentations will include 'pioneering healthcare strategies, prudent facility management and new approaches for the sustainable operation of hospitals' as central themes.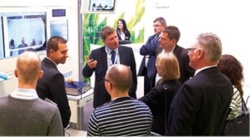 Conference Manager Aleksandra Kreplin: 'The special feature of HBIE is that investors, construction planners, architects, hospital operators and hospital equipment suppliers have the opportunity to meet and discuss completed, on-going and also planned projects.' Along with colleagues, she focuses on inviting exhibitors and speakers who can report on the very latest projects. 'We want our participants to learn about new construction and renovation projects as early as the planning phase,' she explained.
Speakers from over 15 countries and visitors from 48 countries participated in the 2012 event and, so far this year, speakers from India, Russia, Denmark, Germany, the Netherlands and Switzerland have confirmed their attendance. Top hospital representatives will present new strategies under the theme 'Leaders in Health Care'. A second series of presentations will question how process optimisation and astute facility management can reduce costs and modernise hospital buildings in the long term.
In a third series of presentations – Design, Build, Upgrade – leading experts will report on their successful hospital constructions, 'projects that combine modern design with practical elements,' Aleksandra Kreplin explained. 'The participants will discover how interdisciplinary approaches can enable effective and lower-cost healthcare provision through the examples of some truly outstanding hospital buildings.'
One approach is the use of sustainable building practices. As a member of the German Sustainable Building Council, the Regional Association of Rhineland-Palatinate (LVR), which operates ten hospitals, is working on a certification system for the modernisation of existing building stock. Architect Markus Sauer, Head of the Sustainable Building Department at LVR, commented: 'Sustainability represents the future viability of the company – the goal is to orientate our actions towards ensuring that we bequeath stable ecological, economic and social conditions to future generations.' This has involved LVR viewing construction costs across the whole life cycle of the building and making the binding decision to introduce passive house standards to new buildings. Markus Sauer will discuss latest developments and future perspectives for his work at the event.
The private hospital operator Asklepios Group dealt with the sustainability concept at an early stage. Three years ago it began a 'Green Hospital' programme in which the ecological handling of energy in the construction and operation of hospitals has been promoted at selected hospital locations. One of the pilot locations for the programme, its hospital in Schaufling, for example, began to operate a new solar power plant in October 2012. The first phase construction investment was €340,000. Due to the rehabilitation clinic's enormous daily energy needs, the Asklepios Group expects the power plant to have paid for itself in about six years.
Dr Wolfgang Sittel, Head of Architecture and Construction at the Asklepios Group and a speaker at HBEI, has noticed that sustainability has become the focus of a broad-based discussion in Europe and the USA due to worsening environmental problems. He particularly attributes the changing environmental behaviour of those involved in healthcare to the certification of environmentally friendly construction and operation methods in real estate. HBIE will also include round table discussions and workshops, and around 90 exhibitors will present solutions for hospital construction, improved infrastructures and clearer processes.
Details: www.hospitalbuildeurope.com