Sponsored • Refining tissue removal and biopsies
Hologic surgical devices gain European CE Mark

Source: Hologic
The MyoSure Manual
There is an increased demand to simplify tissue removal procedures regardless of where they are performed, in a clinic or operating theatre

Edward Evantash
This system joins the firm's MyoSure gynaecologic surgical products suite (MyoSure, MyoSure Reach, MyoSure XL and MyoSure Lite devices) for resection and tissue removal and is reported to simplify tissue removal procedures in any medical setting.
The system is a minimally invasive hysteroscopic treatment for women with problematic tissue that requires no cauterisation, ultimately preserving uterine form and function. 'The MyoSure Manual enables quick and convenient removal of tissue, including a range of fibroids and polyps that may be the root cause of abnormal uterine bleeding (AUB), which affects up to 30% of pre-menopausal women.' (Ref: Committee on Practice Bulletins—Gynecology. Practice bulletin no. 128: diagnosis of abnormal uterine bleeding in reproductive-aged women. Obstet Gynecol. 2012;120:197-206).
'There is an increased demand to simplify tissue removal procedures regardless of where they are performed, in a clinic or operating theatre. We continuously look to meet this need by developing innovative solutions that provide flexibility and convenience for both physicians and patients in any setting – in the theatre, ambulatory or outpatient settings, requiring minimum set up and no fluid management capital equipment, while offering direct visualisation when used with the MyoSure hysteroscope,' explained Edward Evantash MD, Medical Director and Vice President of Medical Affairs at Hologic.
The system has a fully integrated vacuum with no need for external suction. It involves the support of a one-litre saline bag – no controller or additional fluid management capital equipment is needed. The clear tissue trap allows visual confirmation of tissue removed during the procedure and holds up to 4g of tissue; it also detaches to send to pathology.
Physicians have multi-function control of the 360° blade.
Safety: This tissue removal device is intended for hysteroscopic intrauterine procedures by trained gynaecologists to resect and remove tissue. The device should not be used in the following patients:
Pregnant or suspected pregnancy
one with clinical evidence of an active pelvic infection
with a history of recent pelvic infection,
having cervical malignancies or previously diagnosed uterine cancer.
The Brevera Breast Biopsy System with CorLumina Imaging Technology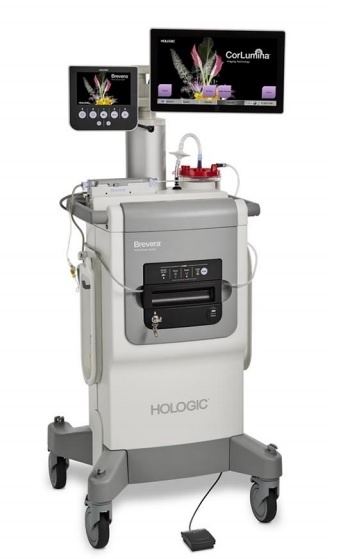 This real-time breast biopsy and verification system improves the patient experience and streamlines the biopsy process from start to finish, Hologic reports. 'The first-of-its-kind Brevera system is designed to increase biopsy accuracy with real-time imaging that delivers valuable information at the point of care. The system is the world's first and only breast biopsy solution to combine tissue acquisition, real-time imaging, sample verification and advanced post-biopsy handling in one, integrated system. Designed for 2-D and 3-D breast biopsy, it allows clinicians to perform fast, efficient procedures that save costs and improve the patient experience. (3-D biopsy only when used with the Affirm breast biopsy system).
'Until now,' Hologic explains, 'radiologists performing stereotactic breast biopsy procedures to diagnose breast cancer were often required to leave the patient under compression while they moved to another room to image and verify tissue samples. This leads to lengthy procedure times and anxious, uncomfortable patients, and can interrupt facility screening schedules. With the Brevera system, radiologists are able to obtain and image tissue samples in the procedure room in just a few seconds, potentially saving up to 10 minutes per patient and cutting the procedure time by up to 25 percent (*2015 Kadence International survey of 200 healthcare professionals).
'The Brevera system is a major breakthrough that transforms the breast biopsy procedure as we know it,' said Jan Verstreken, Hologic's President for EMEA and Canada. 'Clinicians can now image and verify tissue samples in real-time in the procedure room, leading to fast procedure times and an improved experience for women, without compromising accuracy or outcomes.'
In addition to saving facility resources and clinician time during a breast biopsy procedure, the Brevera system's proprietary CorLumina imaging technology helps enhance workflow across multiple departments within a health system, Hologic adds. 'The technology automates the tissue sample collection and separation process, which allows patient tissue to be sent to pathology with little or no manual handling, and also protects the integrity of samples. The system also features PACS integration for advanced image sharing and transfer of patient records.'
The Brevera system is designed for use with Hologic's Affirm prone biopsy system, Affirm breast biopsy guidance system, and the MultiCare Platinum system, as well as most available upright and prone systems.
Further details: www.myosure.com/manual.
Abnormal uterine bleeding: www.wearwhiteagain.co.uk
More on the subject:
More on companies: