High flyers and high earners
€ 4,350 per weekend lures Europe's doctors to UK
Thousands of foreign medical professionals underpin the UK's National Health Service (NHS). In 2004, of the country's newly registered medics, two thirds of the doctors, and over 40% of the nurses, had come from other countries. In total, about 72,000 of the UK's 212,000 registered doctors are not British. That figure includes, for example, around 12,500 doctors from Africa and, from the EU, 3,764 from Germany.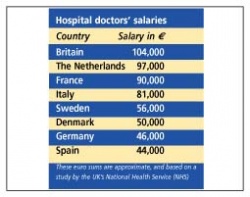 Now a newer phenomenon has presented itself: 'the weekender'.

Wanting to race for a Friday night flight after a week's work in your own country, then to toil on medical emergencies through to Monday, in a foreign country where you often experience language difficulties, is not difficult to understand, if you know you will return home with €4,350 - just for one weekend's work. Just compare the annual income of doctors in the eight EU countries and the monthly figures presented in the boxes. The fee earned in that weekend nears what a senior physician earns in Germany after a month's work. No wonder an estimated 2,600 German physicians now regularly take those Friday flights.

What caused this situation? The UK is short of doctors. On top of this, last year, the NHS gave its general practitioners (GPs) the option not to work during weekends. Naturally, many do not. In addition, the British Government's move to reduce the number of doctors recruited from Africa, following pressure to prevent shortages in their own nations, may be another contribution factor.
The shortages of British doctors, and the supply and demand situation, led health recruitment agencies - which supply the NHS with doctors and nurses, for high fees - have flourished. Given the shortage of British doctors, naturally they have also trawled further for doctors. Thus, last year alone, 771 German doctors registered for the first time to work in the UK.

To work in the UK, each foreign doctor must register with the General Medical Council. This procedure involves a doctor going there in person, providing officially translated documents to prove medical qualifications, and then paying a fee of about €1,740 - less than half the fee mentioned for one weekend ahead.

Last year, the number of German doctors registering in Britain, compared with 2003, more than doubled. Frank Montgomery, Head of the Marburger Bund (Germany's biggest medical union) said that, of the country's 145,000 hospital doctors, about 6,000 younger ones work abroad permanently. He believes this is due to the working hours, hospital hierarchy, and the low income in their own country. Only after aged 28 do they earn better figures, yet their working hours can reach 80 per week. Ten years ago, he added, almost all medical students completed training, but now a quarter abandon studies, and another 25% choose different professions after qualifying.
In Germany there have been pay protests and even strikes, and difficult negotiations continue for labour agreements. However, Frank Montgomery also believes discussions should also be focused on German academic and public sector structures. Why, he asks, cannot a senior physician receive the equivalent of a private-sector salary?

Meanwhile, in Britain, some doctors have expressed concern that their foreign counterparts do not understand dialects in various areas of the country, so cannot communicate well enough with patients - nor do they understand the healthcare system sufficiently. In addition, some of the incoming doctors have spent hours in transit to the UK - too many to be alert enough to work.