Heparin-bonded uretral stent prevents bacterial encrustation
A new heparin-bonded uretral stent, developed by Cook Medical, is now available and provides urologists with an improved option for ureteral drainage. As a recent study from Italy shows, the heparin-bond prevents bacterial encrustation in long term insertion.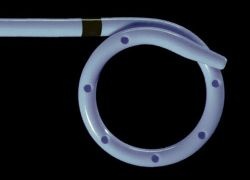 Cook Medical developed its next genereation Endo-Sof Radiance Ureteral stent that features a heparin-bond. The new stent is very comfortable for patients as the material softens when exposed to the patient's body heat and the heparin-bond leads to a reduction in bacterial adhesion, slowing down the process of stent encrustation.
Study results show, that patients require fewer stent change procudures and fewer hospital visits. The new stent could also help clinics to reduce costs.
"We compared the Endo-Sof Radiance heparin coated stent with a similar uncoated stent before and after insertion in the ureter, by inserting these stents into patients who have not previously suffered from kidney stones. We then monitored these patients for between one and twelve months," explains Dr Furio Cauda from the Department of Nefrourology at the St. Giovanni Battista Hospital in Turin, Italy, who recently tested the new product.
"Our results support the hypothesis that heparin reduces stent encrustation and results in no modification of the heparin layer surface, guaranteeing its stability for a very long time, which is great news for the patients and doctors alike. In conclusion, we believe that heparin is really effective to prevent bacterial encrustation and salt precipitation from urine in long term insertion."
"The Endo-Sof Radiance ureteral stent dramatically reduces encrustation and minimises the need for multiple hospital visits for stent replacements. Ultimately it's better for the patient, easier for the physician and less costly for the health system," concludes Jerry French, senior vice president and global strategic business unit leader for Cook Urology.
For further information, please visit http://www.cookmedical.com