Data Management
Health Information Exchange Systems are Critical to Integration of Healthcare Services
Health information technology providers must develop dynamic and easy-to-install information systems to dispel client concerns about interoperability and compatibility.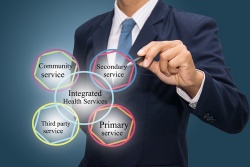 The need to contain hospital operational costs, improve workflow efficiency, and to provide better access to healthcare, has led to the integration of healthcare services. In turn, integrated systems have supported the development of innovative and patient-centric delivery models such as patient-centred medical homes and care-at-a-distance solutions. A strong information system infrastructure will further facilitate affordable, accountable and integrated delivery of services along the continuum of care.
New analysis from Frost & Sullivan, Technologies Enabling Home Medical Devices and Integrated Care Systems, finds that health information exchange (HIE) systems are a key technological driver of new healthcare models. HIE refers to the digitisation of health records to create a central data repository that will ensure continuity of care, data legacy and data-drive health analytics.
Ongoing and imminent changes to regulatory and legislative policies pertaining to healthcare delivery, such as incentivising electronic information sharing and mandating meaningful use of patient health data, will encourage the adoption of information systems like HIE in many countries.
"These changes are likely to have far-reaching consequences for healthcare delivery, particularly in predictive diagnosis and population health management," said Technical Insights Research Analyst Bhargav Rajan. "Instead of functioning merely as workflow aids, information systems are likely to transform the very nature of healthcare planning and delivery, ushering in predictive analytics and coordinated care management."
One challenge to the adoption of technological frameworks is the fragmentation of the healthcare market in several countries, causing interoperability issues. Healthcare providers are also unwilling to make the high initial investment required for these systems.
Technology providers need to design systems-agnostic solutions that can be used across technology platforms in order to allay client concerns about interoperability and compatibility. Healthcare providers too must gauge and understand the value information systems bring to their practice in effecting affordable, quality service in line with patient needs.
"A fully functional, integrated healthcare system is a product of innovations in technology, management and implementation," noted Rajan. "Of these, a solid technological infrastructure, led by dynamic and interactive information systems, will be key in establishing home and integrated care systems."