"Get Serious" needs your support
Now firmly established within the social media world - with over 10,000 Facebook fans, over 2,500 followers on Twitter, and many more supporters across other sites - we need our online supporters to help with our 'Get Serious' campaign.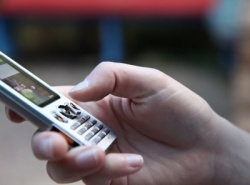 'Get Serious', underlining the seriousness of diabetes, is all about strength in numbers - so we're aiming to get as many of our existing online supporters as possible to sign up and show their commitment to Get Serious about diabetes, to boost those numbers.
Help make diabetes a priority
"If everyone who supports us on Facebook, Twitter and other social networks signs up to Get Serious we will increase support for the campaign by thousands," said Paul McDonald, Head of Communications at Diabetes UK.
"We're coming together with a single message: sign up to show your commitment to Get Serious about diabetes. By signing up, you join a community that is fighting one of the UK's biggest health challenges. Each person who signs up to Get Serious brings us one step closer to making diabetes a priority for everyone."
And with more people signed up to the campaign, the greater power we will have to influence key decision makers in the UK and ensure diabetes is made a top priority for 2010 and beyond.
Add your name and email address
Because half a million people in the UK have Type 2 diabetes and don't even know it; because three people die from diabetes-related complications every hour; because one person is diagnosed with diabetes every three minutes; because of all of this we are asking people to join in our campaign and Get Serious about diabetes.
So if you're serious about diabetes and want to see an improvement in diabetes care in the UK, then please add your name and email at http://www.diabetes.org.uk/GetSerious/ - and encourage your friends and family to do the same.
Star support
The campaign is being supported by entertainer Christopher Biggins, who has Type 2 diabetes. Other celebrity supporters of the campaign include Sir Steve Redgrave, Dominic Littlewood, Cheryl Fergison, Steve Dixon, Eamonn Holmes, Amy Lamé, Phillip Schofield and Paul O'Neill.
Sign up online or by mobile
Sign up to the campaign online or by texting SERIOUS to 84383.
(All texts will cost £1 plus network extras, minimum of 54p from every text will be donated to Diabetes UK, apart from texts from Virgin where we will receive 34p. By texting you are agreeing to receive future updates and marketing from this charity, unless you text STOP to 84383.)
Source
Diabetes UK