Further increase in number of exhibitors
The COMPAMED, the leading specialist international trade fair for suppliers to the medical manufacturing market, is held parallel to the MEDICA, the world's largest medical trade fair, each year and showcases the dynamism and innovative power of the medical technology sector. The COMPAMED 2008, High tech solutions for medical technology, will, with around 500 exhibitors from 30 nations, once again improve on last year's record attendance and continue its expansion in Halls 8a and 8b of the Düsseldorf Messegelände.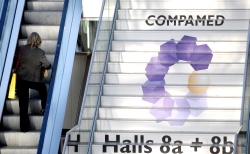 Here, suppliers will exhibit a comprehensive spectrum of high-tech solutions for use in the medical technology industry – from new materials, components, preliminary products, packaging materials and services right through to complex micro system technology and make-to-order production.
As far as materials are concerned, COMPAMED trend previews indicate an even greater increase in interest in the use of synthetics in medical technology. Already almost 50 percent of all medical products produced globally comprise materials from the chemical industry – and the trend is sharply increasing. Often, synthetic components must be combined with other components, made of metal or ceramic, for example. A newly-developed laser bonding process can be used to create high-strength bonds between synthetics and other materials extremely quickly. This development will be demonstrated at the COMPAMED by the Fraunhofer-Institut für Lasertechnik [Fraunhofer Institute for Laser Technology] of Aachen, under the name of LIFTEC. The patent pending process is based on the fact that all unpigmented thermoplastic synthetics are transparent or, at least, translucent. At the start of the process, laser radiation is used to heat the component (or component part) to be bonded, through the synthetic part with which it is to be fused. Mechanical pressure is then used to press the component into the synthetic part. During this process, the synthetic material is heated by thermal conduction to a temperature greater than its melting point and the component or component part to be bonded is pushed into the synthetic. If a suitable component geometry is chosen, the materials cool to form a strong positive bond. As well as metals, other materials, including ceramics, can be bonded with synthetics. In such combinations, the properties of the two materials combine to form hybrid components with a high mechanical stability (hardness), abrasion resistance and good temperature stability while remaining both lightweight and moldable. If synthetic materials with different melting points are used, it is even possible to join two synthetics together. "Basically the process creates hybrid components, in which metal inserts increase the component's stability, the fusing of equipment components of different materials is desired or in which additional functions are to be integrated", explains ILT project leader Jens Holtkamp. Initial applications aim to bond synthetic eyeglass lenses directly with metal frames.
Saving Billions with Telemonitoring
One business sector which is increasing in significance is Ambient Assisted Living (AAL), an area in which the Verband der Elektrotechnik, Elektronik und Informationstechnik [Association for Electrical, Electronic & Information Technologies] of Frankfurt am Main expects rapid growth with great potential for Germany. Due to its favorable position in IT systems, micro system technology and robotics, Germany could make AAL a highly significant export; after all, every industrialized nation is equally affected by demographic changes resulting in the need for medical and nursing care. Innovative telemonitoring concepts enable therapies for chronic illnesses to be more precisely controlled. Sensor systems for barrier-free accommodation provide at-risk individuals with 24-hour monitoring facilities capable of activating emergency procedures. In dementia, too, intelligent assistance systems – such as intelligent household appliances, telemedicine or control and alarm systems – allow those affected to remain in their familiar surroundings for longer. The spectrum of applications ranges from remote ECG monitoring and RFID carpets for monitoring vital functions through centralized bedside communication and control panels right through to automated security and emergency systems. Regardless of the type of micro components needed for such systems, the COMPAMED's exhibitors provide the requisite development know-how.
Services – Right Through to Complete Production
A particular draw for visitors to this year's COMPAMED will be the "High-tech for Medical Devices" product market set up by the IVAM Fachverband für Mikrotechnik [the international association of companies and institutes in microtechnology] and its associated forum. With 40 companies and institutes, this year's IVAM joint booth will set a new exhibitor record. "With the new "Electronic Manufacturing Services (EMS) for Medical Devices" field, we're tapping into a current industry trend", explains Dr. Uwe Kleinkes, IVAM's CEO. Due to higher quality requirements for components and systems, the topic of EMS in medical technology has entered the spotlight. Many manufacturers now outsource their production to specialists. One of the companies exhibiting in the EMS area is the electronics services provider PrehTronics GmbH (Willich). The company uses advanced industrial PCs, display solutions, control concepts and microcontroller platforms to develop electronic components and systems. PrehTronics is also familiar with the industrialization and production of customer products that have already been developed. "Our competencies lie in the development, design, production and assembly of electronic components and systems. We feel committed to Germany as a manufacturing location and have therefore specialized in providing medium-sized industrial customers with complex components and production processes", says Ansgar Schröder, PrehTronics' Managing Director. "As well as developing individual components, it's becoming more common for suppliers to offer make-to-order production of complete medical technology devices and products", confirms Wilhelm Niedergöker, Managing Director of Messe Düsseldorf GmbH.
Thin Films Enable Additional Functions
Thin films are continuing to increase in popularity and are taking on more and more functions. Take, for example, amorphous carbon films, which are becoming increasingly common in medicine and are now being used in urological stents. "Carbon coatings were originally used on metal tools to prevent them wearing out so quickly. Their biocompatibility was discovered at the beginning of the 1990s", says Lisa Kleinen, a physicist at the Institut für Dünnschichttechnologie [Institute for Thin Film Technology] at the University of Kaiserslautern. Since then, the coatings, which are just a few millimeters thick, have been used for knee and hip implants, artificial heart valves and electrodes. "It's possible to add surface coatings to materials and to vary these to improve the way implants knit together with bone or to prevent them from growing into blood vessels", Kleinen explains. The Institute for Thin Film Technology is currently collaborating with the University Hospital in Bonn in using amorphous carbon films to prevent bacteria films from forming on urological stents.
Urethral stents are used to ensure the unimpeded flow of urine between the kidneys and bladder. The problem: organic biofilms deposited on the stents can, in the worst-case scenario, become crystalline bacterial biofilms through the deposition of inorganic salts. In short: an encrustation covers the stent, the risk of infection increases, and the stent must be changed. "We cover stents made of polyurethane with a special coating", explains Kleinen. This coating is produced under precisely controlled parameters, such as pressure, plasma performance or gas flow, and repels bacteria biofilms. Amorphous carbon coatings consist of laminar and tetrahedrally-bonded carbon atoms, whereby the composition is crucial: engineers can manipulate the bond ratios to assign different properties to the films. The stent has so far been tested on 50 patients at the University Hospital of Bonn. "Our experiences show that the useful life of the coated stents has increased. In fact, it's doubled", remarks Norbert Laube, associate professor and head of the Department of Experimental Urology at the Bonn hospital.
Making Metal Components Biocompatible
Thin films also play an important role in other medical technology fields: "The research is currently investigating the possibility of making metal parts biocompatible or of adding antibacterial coatings to synthetic components. Textiles can also be treated in this way, something which would, for example, be important in wound care. Moreover, thin films can also serve as barriers to carcinogenic substances", says Professor Winfried Blau, who served as executive secretary of the Europäische Forschungsgesellschaft dünne Schichten e.V. [The European Society of Thin Films, Dresden] until 2007 and who currently serves as their technological consultant, naming further potential uses.
As the aforementioned developments show, this year's COMPAMED looks set to be an important source of inspiration for innovations in mechanical technology. In 2008, the entire product spectrum will once again be represented – right through to appropriate packaging for sensitive medical products, an area in which every 10th exhibitor at the COMPAMED is involved.
Of the 137,000 industry professionals who attended last year's combined MEDICA and COMPAMED events a good 13,000 experts took advantage of the COMPAMED's extremely specialized exhibition.
Further information on the COMPAMED 2008 and MEDICA 2008 (4200 exhibitors from 65 nations), as well as on participating exhibitors and their products, is available via the following Internet portals: http://www.compamed.de / http://www.medica.de