Fire at Dusseldorf Airport
How insufficient rescue coordination claimed lives.
Dusseldorf Airport, 11th April 1996: During welding works, glowing cinders and metal pieces loosened then fell onto the false ceiling of the arrivals hall, which was coated with polystyrene. The smouldering fire turned into what must be the biggest airport fire in Europe.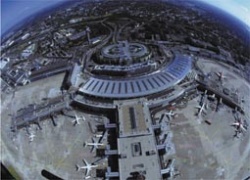 17 people died, 72 people were seriously injured and several hundred received slight injuries. All 17 fatalities died an agonizing death from suffocation. Eight had been in the Air France VIP lounge, where smoke entered through the air conditioning system. The lack of a fireproof door had disastrous consequences. A door like that would have kept the stairwell free of smoke long enough for people to escape. A further problem: Rescue services knew that people were trapped, but did not know the exact location of the VIP lounge.

This fatal lack of knowledge could be traced back to insufficient co-operation between the airport-based works fire service and the municipal fire service. A member of the municipal team explained that the airport was like a blank spot to them and even the location of escape routes had been kept from them by the works fire service team at the airport. Did the airport-based team not want to let anybody in on their business? There are grounds for this assumption: A cartographer, who gave a witness statement during the ensuing trial, declared that, a few years ago he was given short shrift by the works fire service when offering to help with measuring and mapping out the airport grounds. According to media reports the witness was told at the time that, during rescue operations, guides would take external rescue services to where they would be needed.

Despite everything, the rescue teams managed to lead 2,000 people to safety. Due to the smoke level, many individual rescue operations had to be carried out using breathing apparatus; in some cases breathing apparatus suitable for long-term use. During the operation's first phase, a large number of people suffering from smoke inhalation needed care, for which many doctors and rescue personnel were being made available. At the same time as saving lives the fire fighters started tackling the fire in several places, something that proved difficult due to the confusing layout and heat.

Following the incident, the comprehensive rescue report compiled by the Dusseldorf Fire Service stated that it was only due to the quick assistance provided by the fire service and other rescue organisations, some of whom were also based in the surrounding communities, that the number of victims was not higher. Moreover, the report stated, '…buildings of this size, frequented by such large numbers of people, harbour unimaginable dangers which, in the future, must be addressed through optimisation of disaster prevention and control management'.

Nobody was called to account for the fire – the 11 defendants were fined but acquitted after a trial lasting five-and-a-half years. But changes have taken place at Dusseldorf Airport: With the reconstruction completed the airport is now deemed to be the safest in Europe and considered a model for other large airports. Communication was improved through the set-up of a central press office; equipment to help the fire service with orientation and location of victims was installed and significantly improved. Catastrophes such as this airport fire confirm the importance of coordination and cooperation between all the rescue services involved. Solo efforts cost lives.
Source: 112 spezial, Sonderheft D 3052 E, EFB-Verlagsgesellschaft, Beethovenstrasse 27, 63526 Erlensee)