Feuding cardiologists
A €35,000 DRG reimbursement for TAVI has put Germany in the lead for this procedure – and prompted sharp competition and disputes between cardiologists and cardio-surgeons, Holger Zorn reports.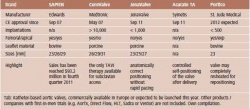 Since the first successful TAVI procedure a decade ago, when French cardiologist Alain Cribier guided a catheter-mounted artificial heart valve via the femoral vein, right atrium and atrial septum to the aortic valve position and opened the balloon to release a new valve, a dramatic increase in TAVI procedures occurred in Germany. The reason is not mystifying: the DRG reimburses a whopping €35,000 for the intervention.
In 2007, 157 were recorded; in 2011 the figure had reached 5,083. If this trend continues, health insurers will pay more than €200 million for TAVIs in 2012. The battle for patients is surging as hospitals hurry to provide hybrid ORs and thus gain a windfall. This has triggered a family feud among medical associations, partially
being fought via the media (unusual in Germany). In 2009, the DGTHG (German Society for Thorax, Cardiac and Vascular Surgery) and DGK (German Cardiac Society) recommended: 'The intervention should be performed jointly by cardiologists and cardio-surgeons […] in a cardiac catheter lab or in a hybrid operating theatre, since the management of complications immediately requires the professional know-how of both disciplines'. [Source: Kardiologe 2009;3:199–206]
Forty-one university hospitalbased heart surgeons and cardiologists begged to differ, suggesting they themselves should be the sole providers of TAVIs: 'Transcatheter aortic valve implementations ought to be performed exclusively at healthcare centres that have dedicated and long established departments or clinics for interventional cardiology and for cardiac surgery […] External facilities that do not have an experienced cardiac surgery team are not suited to offer this intervention'. [Source: Cardio News 2011;14(03):20–21]
This, however, prompted the ALKK (Working Group of Managing Hospital-based Cardiologists) to respond: 'Patients who have no realistic cardio-surgical option, or who strictly refuse cardiac surgery based, for example, on a living will, ought to have access to treatment by an experienced team of cardiologists in an excellently equipped catheter lab in line with current definitions and precautions'. [Source Kardiologe 2011;5:366-71].
TAVI opens access to an entirely new group of patients since about 4% of over 75-year-olds have severe aortic valve stenosis. With threeyear survival rates of about 33% the prognosis without intervention or surgery is extremely poor. Additionally, although surgical open-heart repair or valve replacement is the gold standard, every second patient is considered inoperable and thus does not receive surgical treatment. The so-called PARTNER trial, the first randomised clinical comparison of the Edwards Sapien transcatheter heart valve implantation with medical and surgical management indicated that among TAVI patients the one-year rate of mortality was 20% lower than among patients who had received only pharmaceutical treatment.
The study also showed that the outcomes of both transfemoral and transapical interventions were better than the surgical outcomes: 30 days after the intervention 3.4% of the patients and 30 days after surgery 6.5% of patients had died. One year after the intervention, mortality rates were almost at the same level (24.2 and 26.8%). However, a prospective survey of the 2009 German TAVI registry, with 697 patients from 22 centres, concluded differently: 30 days after the replacement valve implantation 10.2% of patients had died; 39.3% required a pacer after the intervention; 84.4% had received a Medtronic CoreValve, only 15.6% an Edwards Sapien device. [Source: Eur Heart J 2011;32:198–204].
The demand to restrict performance of the intervention is frequently justified by the allegedly higher rate of complications. However, results from the PARTNER trial show a complex picture: whilst the interventions lead to stroke and vascular complications more frequently, surgery causes haemorrhages and atrial fibrillation more often. In their recent analysis of the German TAVI registry the ALKK recorded only 11 cases out of 1,177
(1%) where a transcatheter intervention had to be abandoned in favour of open-heart surgery. Interestingly, this switch from intervention to open-heart surgery was required in more transapical accesses – which are closer to the surgical procedure – than in the less invasive femoral accesses.
New valves, due to be launched, may well reduce complications even further – perhaps one reason why cardiac surgeons like to demonstrate friendly relations to cardiologists – they even invited one to preside over their Freiburg-based congress in February. However, behind the scenes, at a strictly confidential meeting, the managing cardiac surgeons had already announced an investigation into a very first serious incident recorded at a hospital without an established and institutionalised cardiac surgery department – hoping to stop, or at least decelerate, the spread of so-called interventionism.