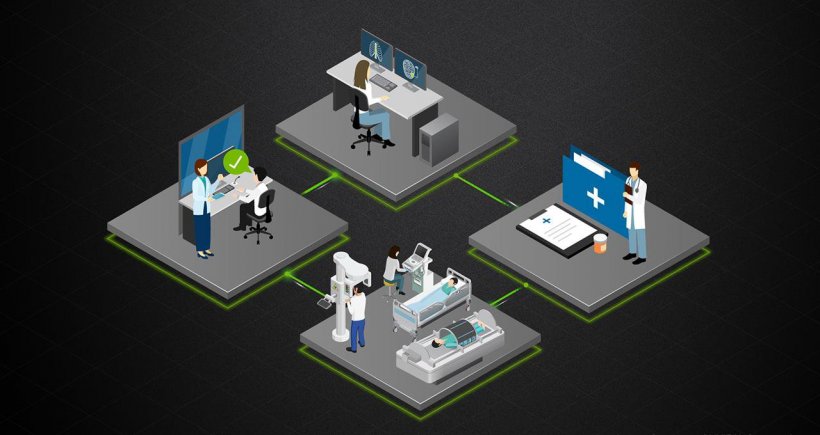 Image courtesy of NVIDIA Corporation
News • NVIDIA at RSNA
Federated learning brings AI with privacy to hospitals
With over 100 exhibitors at the annual Radiological Society of North America conference using NVIDIA technology to bring AI to radiology, 2019 looks to be a tipping point for AI in healthcare.
Despite AI's great potential, a key challenge remains: gaining access to the huge volumes of data required to train AI models while protecting patient privacy. Partnering with the industry, NVIDIA announced they have created a solution. At RSNA (booth 10939 in the RSNA AI Showcase), the tech company introduces NVIDIA Clara Federated Learning, which takes advantage of a distributed, collaborative learning technique that keeps patient data inside the walls of a healthcare provider. Clara Federated Learning (Clara FL) runs on the recently announced NVIDIA EGX intelligent edge computing platform.
Recommended article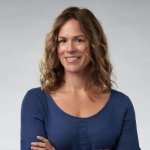 Article • Healthcare 2.0 by NVIDIA
With the right tools, physicians could transform the lives of patients and scientists. For Kimberly Powell, Vice President of Healthcare at NVIDIA, artificial intelligence is such a tool, and could meet the increasing demand for personalised medicine and next-generation clinics. 'AI is the biggest technological breakthrough of our lifetime.'
Clara FL is a reference application for distributed, collaborative AI model training that preserves patient privacy. Running on NVIDIA NGC-Ready for Edge servers from global system manufacturers, these distributed client systems can perform deep learning training locally and collaborate to train a more accurate global model.
Here's how it works: The Clara FL application is packaged into a Helm chart to simplify deployment on Kubernetes infrastructure. The NVIDIA EGX platform securely provisions the federated server and the collaborating clients, delivering everything required to begin a federated learning project, including application containers and the initial AI model.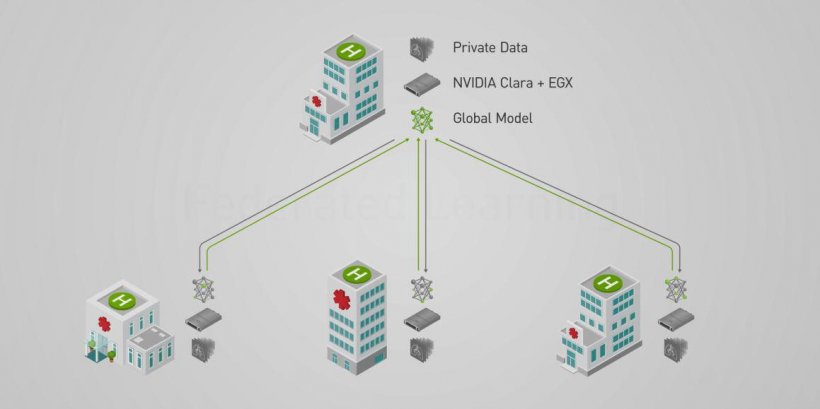 Image courtesy of NVIDIA Corporation
Participating hospitals label their own patient data using the NVIDIA Clara AI-Assisted Annotation SDK integrated into medical viewers like 3D slicer, MITK, Fovia and Philips Intellispace Discovery. Using pre-trained models and transfer learning techniques, NVIDIA AI assists radiologists in labeling, reducing the time for complex 3D studies from hours to minutes.
NVIDIA EGX servers at participating hospitals train the global model on their local data. The local training results are shared back to the federated learning server over a secure link. This approach preserves privacy by only sharing partial model weights and no patient records in order to build a new global model through federated averaging.
The process repeats until the AI model reaches its desired accuracy. This distributed approach delivers exceptional performance in deep learning while keeping patient data secure and private.
US and UK lead the way
Healthcare giants around the world — including the American College of Radiology, MGH and BWH Center for Clinical Data Science, and UCLA Health — are pioneering the technology. They aim to develop personalized AI for their doctors, patients and facilities where medical data, applications and devices are on the rise and patient privacy must be preserved.
ACR is piloting NVIDIA Clara FL in its AI-LAB, a national platform for medical imaging. The AI-LAB will allow the ACR's 38,000 medical imaging members to securely build, share, adapt and validate AI models. Healthcare providers that want access to the AI-LAB can choose a variety of NVIDIA NGC-Ready for Edge systems, including from Dell, Hewlett Packard Enterprise, Lenovo and Supermicro.
UCLA Radiology is also using NVIDIA Clara FL to bring the power of AI to its radiology department. As a top academic medical center, UCLA can validate the effectiveness of Clara FL and extend it in the future across the broader University of California system.
Partners HealthCare in New England also announced a new initiative using NVIDIA Clara FL. Massachusetts General Hospital and Brigham and Women's Hospital's Center for Clinical Data Science will spearhead the work, leveraging data assets and clinical expertise of the Partners
HealthCare system.
In the U.K., NVIDIA is partnering with King's College London and Owkin to create a federated learning platform for the National Health Service. The Owkin Connect platform running on NVIDIA Clara enables algorithms to travel from one hospital to another, training on local datasets. It provides each hospital a blockchain-distributed ledger that captures and traces all data used for model training.
The project is initially connecting four of London's premier teaching hospitals, offering AI services to accelerate work in areas such as cancer, heart failure and neurodegenerative disease, and will expand to at least 12 U.K. hospitals in 2020.
We're witnessing the beginning of an AI-enabled internet of medical things

Kimberly Powell
With the rapid proliferation of sensors, medical centers like Stanford Hospital are working to make every system smart. To make sensors intelligent, devices need a powerful, low-power AI computer.
That's why the company announced NVIDIA Clara AGX, an embedded AI developer kit that can handle image and video processing at high data rates, bringing AI inference and 3D visualization to the point of care.
Clara AGX is powered by NVIDIA Xavier SoCs, the same processors that control self-driving cars. They consume as little as 10W, making them suitable for embedding inside a medical instrument or running in a small adjacent system. A perfect showcase of Clara AGX is Hyperfine, the world's first portable point-of-care MRI system. The Hyperfine system will be on display in NVIDIA's booth at the RSNA event.
Recommended article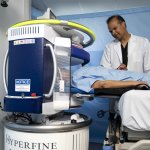 News • POC imaging
The world's first low-cost, point-of-care (POC) magnetic resonance imaging (MRI) system was presented by Hyperfine Research Inc. at the American College of Emergency Physicians (ACEP) Scientific Assembly 2019. The system aims to make MRI available anytime, anywhere, to any patient who needs it. Hyperfine makes MRI inexpensive, accessible, and easy to use by leveraging the ten million-fold…
Hyperfine's system is among the first of many medical instruments, surgical suites, patient monitoring devices and smart medical cameras expected to use Clara AGX. "We're witnessing the beginning of an AI-enabled internet of medical things. The NVIDIA Clara AGX SDK will be available soon through our early access program. It includes reference applications for two popular uses — real-time ultrasound and endoscopy edge computing", says Kimberly Powell, Vice President of Healthcare at NVIDIA.