Facing the terror
While Western Europe's hospitals only carry out drills for possible terrorist events — Israel's medics face the real thing. During the recent Congress of Anaesthesiology and Intensive Care Medicine in Berlin, internist Dr Michael Kafka, head of emergency medicine at the Bnai Zion Medical Centre in Haifa, described strategies to cope with mass casualty events.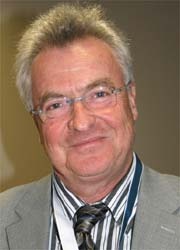 The terror we see ourselves confronted with,' he says, 'is the terror from within.' Haifa unites different religious orientations: Jews, Christians, Muslims, Bahais and Druses call Haifa their home. I must say that we live quite in harmony in everyday life, but fundamental terrorist attacks are a big threat to our people.
Haifa has three big hospitals: a military hospital with a landing pad for helicopters; a health insurance hospital and a municipal hospital, where I am head of the Emergency department.
The most important thing for evacuation is distance. Since our location is very central and terrorist acts, such as suicide bombings, are performed in crowded places, our hospital became involved in many mass casualty events. In 2003, a suicide bomber killed himself on a bus on Moriah Avenue, very close to our hospital. In the same year, another suicide bomber blasted himself in one of Haifa's biggest restaurants, only 300 metres away from our hospital. In this case the victims actually entered my emergency department before the event was even announced. During the 2006 Lebanon War, we experienced a totally new situation: we had a continuous mass casualty event – the whole town was under constant fire from missiles – including our hospital. In reaction, we now have a protected oxygen supplied emergency department underground, where we can take all patients within half an hour, and we still invest in the infrastructure of an underground protected emergency department.

To function in such a disaster situation, we must plan and carry out drills. The main thing is not to bring the chaos into the hospital. To achieve this, we use simple checklists to control a situation. We also train our personnel in all kinds of events. You cannot have a drill for everything every two months, so we try to cover all events in each drill. For example, we simulate a conventional mass casualty event, which is later combined with a toxic event, so that we also practise decontamination procedures, diagnosis of the chemical event and the use of specific antidotes. As said, distance plays an important role in mass casualty situations. Therefore, the drills and training should not be held only in trauma centres, but in all hospitals in urban areas and cities. We have a special simulation centre, the Israel Centre for Medical Simulation (MSR) in Tel Hashomer, where we send colleagues to learn to work together as a good team. Of course we also practice according to the ATLS (Advanced Trauma Life Support) and ACLS (Advanced Cardiac Life Support). Inside our hospital we also have an airway management room, where everyone who usually doesn't do intubation can practise.

However, when a mass casualty event really happens, you'll find that not everything goes according to your training programmes. So you must stay open-minded. The flow chart of medical work during a disaster is different from what we do in everyday life, e. g. at first we can only send patients for X-ray or imaging who need immediate surgery or intensive care. The doctor in charge is head of the hospital during the event and has to start our automatic calling system, which is connected to all the phones of hospital staff.
To achieve optimal working conditions, we offer a transportation service, some in bomb-proof cars, to bring our staff to work, and they can bring their children into our hospital kindergarten, which is protected in the cellar.
Time and again we find that, after an external disaster, people take victims in private cars even before an ambulance arrives. In cases where there is a possibility of involvement with a toxic substance, such as nerve gas, the admissions staff receives special protection with special dressings and the decontamination area is opened immediately before the entrance to the emergency department. The number one saving procedure in any decontamination situation is to take the victim's clothes off and cleanse him. For this we have decontamination areas with special net mats. Everyone who enters our department during a disaster is photographed by our public information centre, which collects all data in a networked computer system connected to all Haifa medical centres. In doing so, for example, we can find family members who separated in the disaster area. Communication is essential to successful disaster management. Furthermore, the public information centre deals with the press, who you find on the scene instantly. Our hospital control centre is in permanent contact with all other hospitals, the ambulance, police, army, health ministry and so on. In a mass casualty event, it is important that only one hospital has the entire burden. If we become over-crowded, or there are patients who need surgery that we can't do, we send them to another medical centre. It is important to send mentally traumatised patients who are not physically afflicted to special psychological centres, so that they don't bring further panic into our workplace.
To stay on top of things, right from the beginning, we have a yellow line outside the emergency department, where people must wait for primary triage. The most important resource in a mass event are, first, the operating theatres – they must be dedicated only to victims who need immediate interventional surgery. Of course, the trauma room must be ready all the time, but we do not have too much time to spend on heart lung resuscitation in the trauma room because the golden rule in mass casualty event is to use the facilities and medical personal primarily to save as much life as possible and avoid as much damage to organs and limbs as possible, to avoid future morbidity and invalidity for as many patients as possible.