Schiller
Explore the new world of ECGs
Come and visit us at booth A300 at the ESC in London. SCHILLER is delighted to present you its latest innovations!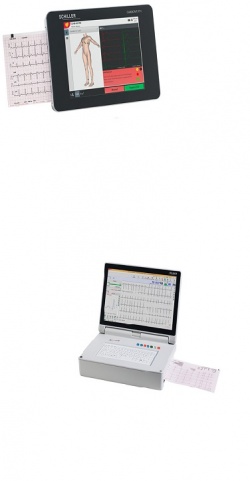 CARDIOVIT FT-1
Maximum performance in a compact electrocardiograph
Designed for users who value state-of-the-art technology SCHILLER's CARDIOVIT FT-1 offers:
• Power and flexibility of a PC in a portable ECG
• Bidirectional Wi-Fi communication to EMR
• Culprit Coronary Artery AlgorithmTM for early STEMI detection
CARDIOVIT AT-170
Robust design with high-performance
SCHILLER's new high-end electrocardiograph completes the proven AT product range. It offers robust design for the busiest hospitals, as well as a combination of applications that makes it the ideal multi-use workstation for private practices.
• Wide high-resolution touch screen for easy ECG review
• Full-size keyboard with antibacterial protection
• Stress test option and 16-lead acquisition and analysis

For more information visit www.schiller.ch
More on the subject:
More on companies: