Eizo GmbH aims for split-screen medical monitors
Siemens Automation and Drives (A&D) division developed and supplied monitors exclusively for Siemens Medical until, about 20 years ago, the customer base expanded and A&D ultimately supplied almost all major medical technology firms with monitors for integration into their systems. In 2007, Siemens decided to focus on its core business and sell off its medical monitors division.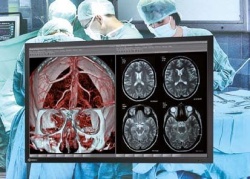 At the same time, the long-established Japanese monitor manufacturer Eizo Nanao, which in 2002 had entered the medical imaging market with its RadiForce monitors, wanted to expand its medical monitors division. The company not only wanted to become number one in producing medical-grade monitors but also to establish a stronger presence in Europe.
Following the A&D acquisition, Eizo Nanao founded the subsidiary Eizo GmbH Display Technologies, headquartered in Karlsruhe, Germany. Eizo thus succeeded in expanding its presence in the medical market, strengthening its R&D expertise and establishing a production capability in Europe.
Production
Eizo monitors for surgery and interventional radiology, X-ray, angiography, endoscopy, CT and MRI are being developed in Germany. 'That has always been our strength,' Walter Kupper, Director Product Management & Marketing pointed out. 'Ultrasound, PACS and mammography systems are mainly being developed in Japan because the latter two applications are very similar. Basically a mammography monitor is a PACS monitor specialised in mammography.'
Currently the company is in the process of consolidating many separate monitors into one large-screen monitor. 'In an angiology room, for example, you have six to eight monitors that are now being replaced by one big screen subdivided into six or eight fields,' he explained. 'This isn't merely a front-end issue because you still have to handle the signals originating from the different sources. These different signals are fed into a computer system located upstream from the monitor. Eizo delivers a complete image management system, not just the hardware.
'Apart from the fact that one screen saves space and reduces clutter, the physician can zoom any image up to a very large size and minimise or hide all images that are not interesting for the time being. Certainly, he can adjust the layout to his individual needs.'
Of the system, launched about two years, and in general use for about a year, he agreed that 'It's pretty expensive,' but added, ' While at first glance there's no obvious financial advantage on the purchasing end, there is a very significant advantage in the workflow. That's why physicians love our system and are prepared to pay for it – and they successfully convince their hospital financial management that it's a good investment.
The future
The trend towards large monitors in medical technology he believes will continue. An interventional radiology lab has a patient examination room with monitor and a control room in which there is a monitor that duplicates the examination room monitor's landscape. Up to eight monitors may be connected, with each connected to a work station and each equipped with a keyboard and mouse. 'So far, we have replaced the separate monitors in the examination room with a large-screen monitor. The next logical step is to do the same in the control room.'
Thus, in the next-generation control room, monitors will be replaced by one large screen and the entire system will be operated with one keyboard and one mouse. However, the staffing level will not change, he pointed out. 'Most of the time one or two physicians are in the control room, which will not change. But they will no longer receive the information on five or even eight monitors but on one or two large screens.'
More on the subject:
More on companies: