RadiNET Pro
EIZO Monitor Quality Control Solutions
A monitor's display of color and brightness changes over time with use. Having a monitor that lasts long and is capable of maintaining quality control with regular adjustments is important. RadiForce monitors are equipped with various features and functions for stabilizing and adjusting monitor brightness to meet standard viewing requirements. They also have built-in sensors for easily maintaining quality control. EIZO's confidence in its product quality extends to brightness stability which is also covered by a warranty during the recommended usage time.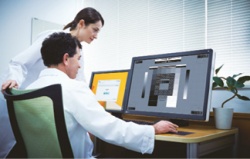 With filmless imaging spreading in medicine, maintaining the quality of monitors for medical imaging is becoming increasingly important. With the know-how and experience as a specialist in monitor manufacturing, EIZO offers monitor quality control solutions for diagnostic precision and comprehensive management to contribute to the improvement of the quality of medical care.
Ensure Precise Quality Control
RadiCS quality control software provides total support for the quality maintenance and control of client monitors, covering everything from calibration to acceptance and constancy tests, calibration asset, and historical management. Complying with AAPM, DIN, IEC, and other international QC standards, RadiCS enables precise QC with intuitive, easy-to-follow procedures.
Advanced User-Interface and Enhanced Operability
Graphical design and icons are arranged next to the text making it easy to comprehend the functions visually and intuitively. A compen­dium list also enables users to check the condition of monitors instantaneously. Furthermore, RadiCS simplifies operability such as gaining access to necessary information with just one click of a mouse.
DICOM Part 14 Calibration
The built-in backlight sensor enables simplified calibration com­pliant with the DICOM Part 14 standard to correct the grayscale tones and brightness of the monitor. Furthermore, the use of an Integrated Front Sensor or bundled UX1 Sensor enables higher ­calibration performance.
Flexible Schedule Setting
The timing of when to perform QC tasks such as daily tests or constancy tests can be set according to the needs of your institute. For example, when turning the PC on or just after a specific application is opened.
Warning Icon for Swift QC
A warning icon appears on the desktop taskbar when the monitor fails a QC check such as a constancy test. This enables prompt detection and correction of the monitor quality.
Mobile Control Made Easy
Monitor administrators can access the QC server anytime, from any location where their web-enabled mobile device has Internet connectivity. This helps administration personnel to work remotely saving both the time and expense of on-site visits and improves the speed of the QC work flow.
Keep Monitor Management Organized
RadiNET Pro network QC management software enables centralized management of calibration tasks, data history of multiple RadiCS clients via a network, and remote QC functions, significantly saving on costs related to complicated QC management.
Carving out the smallest details is essential in medical practice
Only people who can obtain a clear picture, and only those who can separate what is important from what is not, get clear results in medicine. Exceptional image quality, a perfectly coordinated network, support software, and excellent customer service are some of the reasons why EIZO RadiForce medical solutions are found in leading hospitals around the world.
More on the subject:
More on companies: