Dräger Award for Intensive Care Medicine 2009
At this year's Euroanaesthesia 2009, in Milan, the European Society of Anaesthesiology (ESA) presented for the third time the "Dräger Award for Intensive Care Medicine". The 10,000 Euro prize went to the working group studying "Effects of ventilation with 100% oxygen during early hyperdynamic porcine fecal peritonitis" in the Department of Anesthesiology, University Hospital Ulm, Germany.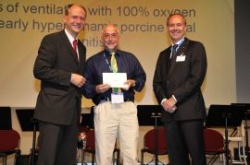 The annual prize honors significant European research in the field of intensive care medicine. The prize is given to the anaesthetic or intensive care department that produces the article rather than any one research worker.
This year, the Dräger Prize subcommittee of the ESA who judged the prize recognized this working group (1) for their investigation of the effects of pure O2 ventilation on organ function and tissue injury during septic shock.

The award recipients
Prof Radermacher´s working group investigated the effects of pure O2 breathing as a putative adjunct to early goal directed therapy of septic shock. This had not been done before, since ventilation with 100% O2 during sepsis is referred to being potentially harmful as a result of enhanced oxidative stress. In a clinically relevant long-term porcine model of well-resuscitated septic shock resulting from fecal peritonitis, ventilation with 100% O2 improved organ function and attenuated tissue injury without affecting lung function and oxidative or nitrosative stress.
As Chairman of the Dräger Prize Subcommittee, Prof Dr Benedikt Pannen, Director of the Department of Anaesthesia at the University Hospital Duesseldorf (Germany), stated that this paper was selected as it evaluated the impact of a simple intervention, namely the ventilation with 100 % oxygen, under experimental conditions of sepsis that could become highly relevant to the clinical scenario.
(1) Head of the working group: Prof Dr Dr med hc Peter Radermacher; members: Eberhard Barth, Gabriele Bassi, Dirk M Maybauer, Florian Simon, Michael Gröger, Sükrü Öter, Günter Speit, Cuong Duy Nguyen, Cornelia Hasel, Peter Möller, Ulrich Wachter, Josef A Vogt, Martin Matejovic, Enrico Calzia.