Radiation Therapy
Dolphin from IBA makes radiation therapy safer
Innovative Dolphin® system clinically implemented at the Gaziosmanpasa Hospital, Istanbul, ensuring high quality and efficient radiosurgery and SBRT treatment QA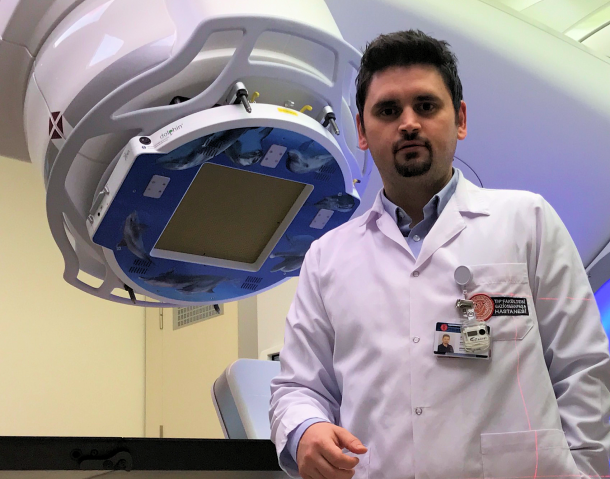 IBA, the global high-tech leader in the next generation of proton therapy solutions and radiation therapy quality assurance for the treatment of cancer, announces the firstclinical implementation of Dolphin Online Ready Patient QA and Monitoring solution in Turkey.
With the use of Dolphin, the team at the Gaziosmanpasa Hospital in Istanbul, Turkey, implemented a new quality assurance standard for challenging radiosurgery and Stereotactic Body Radiation Therapy (SBRT) cases. These patient treatments are delivered with high doses typically in five or less treatment fractions precisely tailored to the tumor's shape and location. To address the special high demands of SRS and SBRT cases the hospital's team has clinically implemented Dolphin due to the system's ability to verify treatment doses in 3D within the patient's individual anatomy.
"We are now using Dolphin to perform patient QA for our advanced and challenging stereotactic cases and for our Head & Neck treatments" says Bora Tas, Asst. Prof. and Chief Medical Physicistat the Gaziosmanpasa Hospital in Istanbul, Turkey.
He continues, "compared to our previous table based QA solution we can now measure and verify our patient QA in significantly less time".
About the Dolphin System
Dolphin is a complete solution that offers a higher capability to detect and verify possible treatment dose discrepancies compared to conventional QA solutions, thus contributing to a more efficient and safer radiation therapy. This improvement is based on Dolphin's high treatment dose measurement resolution.
Highly complex IMRT and rotational treatment plans are delivered and measured with the Dolphin transmission detector prior to each patient treatment. A sophisticated TPS-Class software allows verification of dose deviations in 3D patient anatomy between the plan and actual delivered dose measured with Dolphin.
The hospital's patient QA workflow efficiency is increased with Dolphin's "plug and play" wireless setup and its automatic verification software displaying instant QA results.
The Dolphin solution including the detector and the software is "online ready" and currently used for pre-treatment QA. The system will be capable of measuring the actual patient treatment dose in online mode, fraction by fraction. The online capability is currently pending release.
For more information visit http://www.iba-dosimetry.com/
More on the subject:
More on companies: