Distinguished by precision and accuracy
We are very pleased to introduce our new Exercise Stress Test System CARDIOVIT CS-200 Touch which can perform multiple clinical tests: 12-/16-channel resting and exercise ECG, Holter ECG and 24h ABPM.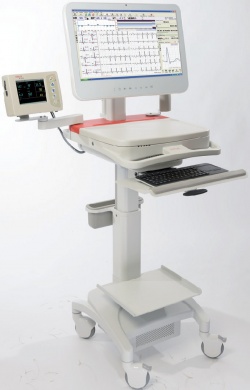 Latest technology
From new and improved filters for optimal waveform quality, to high-resolution ECG signal, with storage and analysis at 1000 Hz, CS-200 Touch paves the way to cutting-edge diagnostic capability:
• Vector 3D ECG, offering a 3-dimensional view of the cardiac electrical activity, and a complete diagnosis of frontal and posterior walls.
• Signal Averaged ECG analysis, as a decision aid for stratification of ventricular arrhythmia and a valid alternative to complex invasive testing.
• Four methods (Bazett, Fridericia, Framingham, Hodges) to correct the QT interval for heart rate.
• Comprehensive ETM™ Algorithm for ECG interpretation, gender-specific, and with additional Right Ventricular assessment based on right precordial lead positioning. To further aid decision-making, ETM re-interprets the ECG after manual measurement corrections by the user.
Modern, ergonomic design
Besides it's state-of-the-art technology SCHILLER's CS-200 Touch has a highly functional design. With its small footprint and easy-glide wheels, it fits even the smallest and crowded spaces in the hospital, and can be moved easily in the office environment. The height-adjustable transport cart will smoothly adapt to each user's optimal working position. Speed and accuracy are universally sought after - we can provide just that: Simply touch the large 22-inch, high-resolution colour display and you're in business recording, selecting and printing the highest quality ECGs. From accurate and complete data entry to customizable final reports, every detail of CARDIOVIT CS-200 Touch is designed to enhance productivity and streamline exercise ECG testing.
Stand-alone or connected
SCHILLER's CS-200 Touch works as a standalone unit or in a networked environment. Connect via WLAN or LAN to multiple acquisition and editing workstations. It also has an open system architecture. SCHILLER uses industry- standard communication protocols and languages to facilitate interoperability and empower customer
choice.
For more information come and join us at the MEDICA in Dusseldorf, hall 9, stand E05!

More on the subject:
More on companies: