Digital operating theatres
Sony's new niche in healthcare sees continuing growth
World renowned for audio, video, communications and information technology products used for entertainment as well as business communications, Sony has continued to utilise and develop that technological expertise to take an increasing role in operating theatres.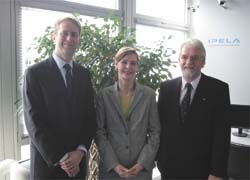 In April 2004 European Hospital featured the advanced Sony set-up in surgical units at St Olavs Hospital (Trondheim University Hospital), in Norway, which provides students not only with real-time detailed viewing of certain surgical procedures, but also vital video records and a complete network of communications to aid workflow.
At Kiel University Hospital, the Department of Neurosurgery is similarly equipped with video/audio signal transmission from three different operating theatres, including one with MRI. In addition, a fourth theatre (for emergencies) has been provisionally set-up with a cabling infrastructure for future use.
Professor H M Mehdorn MD, Director of the Department of Neurosurgery, University Hospital Schleswig-Holstein, Kiel, had seen the Sony system in action at the Evangelical Huyssens Foundation Hospital in Essen. 'I knew it would be a huge asset for my new neurosurgery centre at Kiel,' he said. 'The system gives my team the facility to seek advice directly from the operating theatre if a difficult situation arises without waiting for senior consultants to move from their office, scrub up and get down to the theatre. This means patient safety remains paramount, with swift senior counsel and no delays in treatment.'
Slotervaart Hospital, Amsterdam, which wanted to increase its role as a teaching hospital, training medical, paramedical and nursing personnel, also opted to make two of its seven new operating theatres completely digital. The hospital wanted to record images from various kinds of scopes (e.g. for minimally invasive surgery), store them in digital form with other images, and have all the data available in an Electronic Patient Record (EPR). Sony developed two digital operating theatres in conjunction with Smith and Nephew. Reflecting on the resulting system, Boudewijn Dwars, general surgeon at the hospital, said: 'What we are achieving here is fairly unique. The development of endoscopy is already progressing rapidly, but I think that digitisation will only accelerate it.'
Another theatre system has been set up in Muscat. Serving the Sultanate of Oman, the government-owned 524-bed Sultan Qaboos University (SQU) Hospital provides clinical care and medical training. However, limited operating theatre space meant that no more than four students could attend surgical procedures at a time. Today, the hospital provides videoconferencing-based telemedicine, which has allowed it to develop a 'hybrid' teaching model that can accommodate the demands of increasing student numbers.
Supplied and installed by local Sony agent Muscat Electronics, Sony a PCS-1P IP-based videoconferencing system allows live video images and audio to be transmitted to plasma and LCD screens over a broadband fibre optic network linking the College of Medicine & Health Sciences with the rest of the University Hospital campus.
Remotely controllable Sony CCD colour video cameras in six operating theatres are used to capture images from surgical procedures. As well as being displayed live on Sony plasma and LCD monitors around the campus, images are also recorded on DVCAM tape in an adjacent control room for subsequent review and training. Content can be edited using a non-linear editing system and 'burned' onto disc for distribution to students using the Sony RDR-GX7 DVD recorder. The system is also used for videoconferencing over ISDN links with other hospitals and teaching centres in India, UAE and the USA.
The hospital also plans to connect Radiology and Clinical Physiology Department as well as care wards with similar videoconferencing links.
Sony supplies such systems, but none are standard. These are all tailored to the needs of the individual hospital - and now many more hospitals are adopting such systems.
In effect, Sony has discovered a niche for itself in medical imaging technology, Klaus Cramer, of Sony Healthcare Professional Solutions Europe, confirmed, in a recent discussion with Denise Hennig of European Hospital. 'Each company has its key competencies within the imaging market - radiologists, microscopists and the endoscopists/surgeons. We contribute our experiences from image formation, broadcasting and transmission. Everything is combined and serves to achieve improved image quality and transmission.'
David Dowe, who became Director and European Head of Sony Healthcare last year, further elucidated: 'We have a long heritage in the broadcast industry, providing cutting edge technology to all leading broadcasters worldwide. In the last two years we saw a very good opportunity to bring some of that expertise into healthcare, because healthcare is becoming far more multimedia-based that before. Multimedia is used in radiology imaging and there is much greater use of video technology in the operating theatre. Sony now has the opportunity to bring in skills in video and video transference to networks within healthcare. For surgery and endoscopy we have produced a visible light PACS, which is similar to a radiology PACS but uses visible light imaging instead of MR or CT images. The technology relies on modalities that use visible light, such as endoscopy, laparoscopy and open surgery. Visible light was neglected in medicine for historical reasons, because hospitals very much invested their money in radiology systems.'
Nowadays, David Dowe added, surgeons in certain disciplines want better image quality in endoscopy and surgery for diagnostics as well as in the operating theatre. Many endoscopic examinations must be recorded, not just for diagnostic reasons but also for quality control and training aspects in operations and treatments. 'Video is a good tool to show the quality of the work,' he said. 'The main driver for visible light is better training. The reason is simple: when endoscopic procedures are carried out, far more junior doctors can see how they are done. The old fashioned method was that three or four junior doctors stood around a surgeon, watching the monitor. That creates great difficulties in terms of workflow in the theatre and the number of people who can be trained is quite small. With a video you can train 75 surgeons simultaneously, potentially sitting in different countries within our network. We have some evidence-based video studies in Sweden where the outcome of particular types of surgery depend entirely on how quickly surgeons can learn the latest techniques. Because many techniques are very precise, it is not sufficient to describe this in still images or text. A surgeon really needs to be shown, in detail, how the technique works. The outcome of that Swedish study proved much better results, simply because more surgeons are using the best technique.
'The high-definition procedure represents a significant improvement through increased image information particularly in neurosurgery - vessels, detailed views of eyes and ears, vocal chord analysis, wherever one needs to examine very fine details.'
Several firms cooperate with Sony to make these systems viable. The end user is also increasingly important to the company. 'We keep up contact with endoscopists and surgeons,' David Dowe pointed out. 'We currently work with clinicians from different medical fields - gastroscopy, arthroscopy and ear-nose-and throat specialists. Working in close cooperation with them means we can adapt to their individual requirements much better and provide customised solutions.'