Dedicated to mammography
Hologic will be one of the biggest exhibitors at the 93rd Scientific Assembly and Annual Meeting of the Radiological Society of North America (RSNA).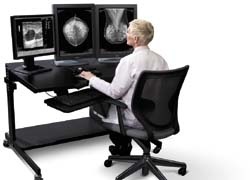 Following the recent acquisition of BioLucent and completion of a merger with Cytyc, Hologic Inc – which specialises in diagnostic and digital imaging systems for women's imaging and skeletal health – will have increased its size by over 50% in 12 months. Additionally, the Cytyc merger will place Hologic in top position in nine technology areas serving women's health.
At the RSNA, new products will include the MammoSite for targeted radiation therapy. Hologic explains that this 'works from the inside, meaning that a higher daily dose can be used for a shorter period of time – five days versus five to seven weeks. MammoSite places the radiation source inside the lumpectomy cavity (space left after tumour removal). This delivers radiation to the area where cancer is most likely to recur. The therapy is given on an out-patient basis.'

Another product, Selenia, accounts for almost 6 in 10 digital mammography systems installed in the USA in 2006. 'FDA monthly MQSA statistics show significant growth in the category – in the last 12 months digital mammography penetration grew 77% (from 1,235 to 2,198 sites),' says Hologic, adding that it also has a strong presence globally. The Selenia S digital mammography system has been specifically designed for the screening mammography facility or mobile environment,' Hologic adds. 'This uses the Hologic direct conversion detector, eliminating the need to convert X-rays to light producing an exceptionally sharp digital image with better contrast and detail. Selenia Scan easily be upgraded to include all diagnostic tools available.'In the new tungsten x-ray tube option for Selenia, the tube is combined with a silver filter that allows images to be acquired at a lower dose without losing the superb image quality, Hologic points out. 'The silver filter's intended use is for imaging thicker breasts with both lower dose and shorter exposure times to eliminate problems with patient motion. Hologic is the first company to introduce the use of the silver filter with a tungsten tube in digital mammography. Systems shipped with the tungsten tube option will be calibrated to have a minimum of 30% reduction in dose, for a 4.5 cm breast, compared to Selenia/Molybdenum systems. Users have the option of choosing even lower dose settings, based on individual site preferences.'

The multitude of other products Hologic will present include
- SecurViewDX diagnostic workstation
- Hologic R2 CAD that offers sophisticated pattern recognition software to help find early stage cancers with greater certainty
- MammoPad, a breast cushion to reduce discomfort.
- Suros ATEC (Automated Tissue Excision and Collection) breast biopsy system
- Suros Celero, a new vacuum-assisted spring loaded core biopsy device for breast ultrasound
Self-assessment workshop
Visitors to the RSNA also can sign up for a module or two in the Dr Roland Holland and Henny Rijken Digital Mammography Workshop.
More on the subject:
More on companies: