COMPAMED 2007
High-tech solutions for medical technology
Micro and medical technology are growing together and driving one another on to new developments. According to a survey by IVAM, the Professional Association for Microtechnology (Dortmund), medical technology is the principal target sector for European microtechnology companies, with a clear lead on the telecommunication and electronic industries.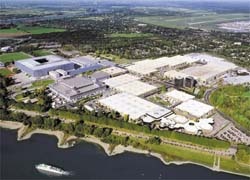 Over 43% of the companies questioned replied that they regard medical applications as the primary focus of their marketing opportunities. It is therefore no wonder the international fair COMPAMED, for international suppliers in medical manufacturing, continues to boom alongside MEDICA. Again, in 2007, this event has seen impressive growth.

'Three months before the start of the COMPAMED 2007 tradeshow, the number of exhibitor applications received was over 40% higher than in 2006, and there was an increase of 48% in terms of the surface area reserved,' said Wilhelm Niedergöker, General Manager of Messe Düsseldorf. There are over 455 exhibitors from 30 countries and a surface area covering over 8,400m in Halls 8a and 8b.

Among the exhibitors is NanoFocus AG (Oberhausen), which is showing its non-destructive, automatable 3-D measuring systems, designed to enable surface inspection of implants or stents, among other things. Heinz-Peter Hippler, the company's Sales Manager said: 'With regard to our measuring technology, which ranges from the microscale to the nanoscale, we are expecting a surge in demand from the field of biomedical engineering. Accordingly, we are expecting great things from this event.'

In the Innovation Report 2007, an annual publication by the Association for Electrical, Electronic & Information Technologies (VDE, Frankfurt a.M.), medical technology remains the third most important driver of innovation. Europeans lead this field, well in advance of the USA, according to this event's organisers. 'With over 70% of the technical experts, Germany and Europe can claim to have the highest innovative capacity in medical technology; by comparison, the USA has 24%. They are followed at some distance by Japan and China. Also noteworthy is the forecast for 2015, according to which not only will the order of rank stay the same, even the percentage shares are to remain largely unmodified.'

The study of 'Optical technologies – Commercial Importance in Germany', commissioned by the BMBF, reports that the global market for medical technology and life sciences has a volume of ?18.6 billion. This amount is supposed to increase to ?38.8 billion by 2015, which represents a growth rate of 7.6%. Germany's share of this amounts to almost 16%. It is worth mentioning the high percentage of graduates (13%) among the 17,400 employees of the medical engineering industry, which exports 70% of its products abroad. The trends toward intelligent and multifunctional high-tech products and toward continual internationalisation are also a characteristic of COMPAMED.

Top potential for optical inspection systems
Similar to NanoFocus AG, the Optical Solutions division of Siemens is also working in the area of quality inspection, for which it offers ultra-fast optical inspection systems. These can detect, for example, fractures in stents and thereby prevent micro-wounds in arteries, which can occur when parts of damaged stents straighten up in the artery. Markus Lotz from Siemens Optical Solutions sees a bright future for measuring and image processing technology, 'The development potential of optical inspection systems can be increased fivefold, because we have not yet availed of all the opportunities presented by image processing.'

The measurement of surface textures — down to the nanoscale — would be inconceivable without modern sensors. This topic therefore stands equally high on the priority lists of the exhibitors and the visitors to COMPAMED. The components, based on CMOS technologies (Complementary Metal-Oxide Semiconductor), for example, and therefore belonging to the micro-technology sector, are also used to measure the flow rate of gases and liquids in anaesthesia systems and infusion technology, among other things. However, Ulf Kanne, Product Manager at Sensirion AG in Stäfa in Switzerland, can envisage numerous other application areas – especially for disposable sensor solutions: 'Humidity sensors integrated in plasters could make it easy to monitor the healing process of burn injuries, for instance.'

Laser-modified surface properties
The on-going miniaturisation in many branches of the medical engineering sector also demands new manufacturing techniques. At this year's event, the Hannover Laser Centre (LZH) is offering a whole batch of micro-technical manufacturing processes for medical product engineering. Along with conventional precision methods, such as laser removal, cutting and joining, other product modifications and solutions are being presented that specifically target medical applications. For example, laser processes can be used to make selective modifications to surface properties – especially of polymer materials. In this way, through the use of micro-stereolithography, materials can be provided with particular liquid properties.

'Micro-fluid systems are coming increasingly to the fore in medical technology. Systems like these require new types of expertise, above all in manufacturing technology,' said Dr Roland Stangl, Director of Micro Technologies at PARI Pharma GmbH. PARItec GmbH, which is presenting current developments in this field. The firm's micro-technologies, using the example of PARI eFlow the innovative medical nebuliser, are being demonstrated. The production of PARI eFlow incorporated medicine-compatible and autoclavable adhesive bonds with various materials such as steel, piezo-ceramics and plastics and involved high-speed laser drilling in steel, for holes with a diameter of two micrometers or more. The company also provides this technique as a service.
Two important elements in fluid systems of whatever size are pumps and valves. Bartels Mikrotechnik GmbH is presenting the 'mp6', its latest micro pump generation, for the first time, at the IVAM Joint Pavilion. Equipped with a double actuator (actuator = final controlling element in a control loop), the component doubles the back pressure range to 500 mbar, while a modified signal form ensures low-noise operation. A valve with positive opening pressure, for regulating flow when the pump is not in operation, is currently being developed to go with the pump. 'The basic principle of the piezo membrane pump has been kept simple so that it can be adapted to various requirements – the customer decides whether he needs, for example, a larger volume range, compatibility with a particular material or greater conveyor accuracy,' explained Product Manager Severin Dahms. Bartels is presenting some specimens of the implementation of such requirements at the trade fair. The prototypes of a high-pressure, a high-volume and a regulated micro-pump will illustrate the numerous possibilities. Complicated components like these can be applied, for example, in laboratory technology in bio-chips ('lab-on-chip' applications).

Many MEDICA exhibitors migrate to COMPAMED
Many of MEDICA's 'traditional' exhibitors are exhibiting at COMPAMED this year for the first time. Along with companies such as Alike Buerkert, Binder, Degussa, Helbling and others, these include Bernd Richter GmbH (Wipperfurth) and Nicolay GmbH (Nagold), which both offer cable systems and accessories for medical technology.

Mechatronic AG (Darmstadt), which manufactures programmable electronic medical devices, as well as the corresponding components, modules and software, have switched to COMPAMED for the first time. 'MEDICA has played a decisive role in the success of our company up to now,' explained Thomas Ullmann, Chief Executive Officer of Mechatronic AG. 'Not least due to the valuable contacts that we establish every year at the trade fair, our turnover has increased almost fivefold in the last ten years. At the same time, almost 90% of the MEDICA visitors were outside our core target audience. As a result of switching to COMPAMED, we are anticipating a significantly sharper focus on our specialised audience from the decision making bodies for new developments in medical technology.'

Quite apart from the ever increasing number of exhibitors that are presenting innovations and products from the entire field of medical technology, the 'High-tech for Medical Devices' forum provides a different information focus. Organised by IVAM, it shows the latest trends, particularly regarding micro and nanotechnology for use in medicine. New materials and substances, a traditional mainstay at COMPAMED, is again the centre of attention.
Of the 137,503 professionals who attended last year's overall event, i.e. MEDICA and COMPAMED, about 13,000 experts were interested in the technically specialist range of products offered at COMPAMED.
Report by Klaus Jopp, freelance technical writer for science and technology, Hamburg.