Communication is Everything
It´s MEDICA time again: A top theme is the rapidly progressing networking process of the agents in the health care system thanks to new applications, in particular in the field of medical IT.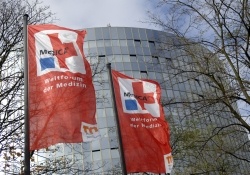 For a long time now Germany has been awaiting the introduction of the electronic health card ("elektronische Gesundheitskarte" or eGK for short) for all those covered by health insurance. The card will now shortly be issued though initially only with very limited functional scope. Until now those relevant representatives from the medical profession, politics, sickness funds and pharmacists involved in the project were unable to come to an agreement on the central storage of patient data realised thanks to the "access key" eGK. Nevertheless, the industry has already demonstrated the card's technical potential in terms of efficient control of treatment procedures. As part of MEDICA 2008 numerous firms from the IT sector will be showcasing their current solutions for the configuration of electronic patient files. Numerous projects now already demonstrate the successful intersectoral collaboration of clinics, for instance, with referring physicians by means of access to data from electronic patient files.
Even though large software companies in the US have already come up with initial solution approaches to health cards that patients can use and update themselves via the Internet, offerings of this kind will not be established in Germany so quickly. This was the view conveyed by Prof. Dr. Frank Ückert from Münster University Clinic in his keynote speech at MEDICA PreView. "The Web 2.0 idea in terms of doctor-patient interaction is still in its early days here in Germany. And until now many patients also do not see any concrete benefits for themselves arising from their own configuration of the health card. Obviously the picture looks very different in terms of the communication between professional health service suppliers," explains Ückert referring to electronic patient files already in use in clinic networks. During MEDICA 2008 Ückert will provide an overview of the activities in the field of Web 2.0 in medicine as part of the telemedicine forum MEDICA MEDIA.
Telemedicine Promotes Patient Involvement
Demonstrating how a telemedical exchange between a doctor and patient could sensibly proceed was shown in Hamburg in a presentation by BIOCOMFORT. A special focus at MEDICA 2008 are new applications of the so-called "Health Manager". The "Health Manager" is a measuring and monitoring system for personal preventive health care. This helps patients without any special technical or medical know-how measure different physical parameters (blood pressure, blood sugar, heart rate variability, body fat levels) and thereby assess long-term risks for particular conditions. Once captured the data (e.g. a blood pressure or blood sugar measurement) is first stored on the relevant measuring equipment and later transmitted automatically via a radio signal onto the patient's PC or handheld. Here the installed software evaluates the data and conveys to the patient recommendations on how to proceed. New here is that the data is also transmitted via a mobile telephone or broadband connection to the treating physician and integrated into the "LifeSensor" type electronic patient file used by numerous health care providers. Adaptation of the program to the digital files of other manufacturers, say BIOCOMFORT, represents no great hurdle. Another component of the "Health Manager" platform is the "Stress-Pilot". This involves an ear-clip measuring pulse rate plus training software. Combined application thus allows the user to carry out a biofeedback exercise for stress compensation.
A further example of the networking of agents in the health care system was presented during MEDICA PreView by Robert Lacroix, Head of the Architecture and Security Sections of the IT Division of private clinic operator Asklepios. Lacroix presented the clinic concept "Future Hospital". Under the key word "One-IT" Asklepios integrates its medical specialists located at different clinic locations (with their computer workstations) into an IT network. On the basis of this standardised infrastructure physicians, regardless of their clinic location, can interact with their colleagues, discuss patient diagnosis and therapy and, for instance, examine X-ray and ultrasound images at the monitor together.
Compact and High-Performing – Little "Allrounders"
Alongside the increasing (IT) networking of agents in the health care system another trend is the growing compactness of high-performance medical devices over conventional systems. One highlight at MEDICA 2007 was the smallest ultrasonic device in the world in waistcoat pocket format that fits in any medical emergency case. This year one innovation at MEDICA 2008 from the firm MAQUET will cause a stir amongst medicine experts. "CARDIOHELP", the world's smallest heart-lung machine, was presented at MEDICA PreView. Thanks to its handy dimensions of 50 cm x 26 cm x 30 cm this device weighing not even 10 kg can now be taken on board ambulances and rescue helicopters. Therefore, help can now be provided to patients until now considered "immobile" due to their need to be hooked up to conventional heart-lung machines. The portable system performs human circulation outside the body and ensures the supply of oxygen to all essential organs.
Another theme at MEDICA PreView: spider/varicose veins and the like. These are often more of a cosmetic problem for the layperson but for those in the medical profession they are visible signs of pathological changes to the veins. If left untreated they can indeed develop into serious conditions. As part of the eurocom presentation at MEDICA PreView Cologne vein specialist Dr. Bernhard Bulling explained why vein complaints are widespread. Using illustrations and practical examples he demonstrated how vein conditions can be diagnosed and what modern treatment options exist. To accompany this the companies Bauerfeind and medi Bayreuth provided a preview of their exhibition innovations like new support socks for use in competitive sport.