Carestream
Today and tomorrow in the open world
In May, Kodak became Carestream. Then, Carestream was bought by Onex. This shapes part of a significant Health portfolio.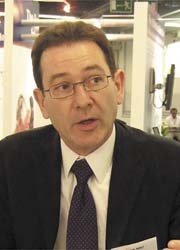 Carestream was profitable and successful, but a minor part of a larger group, and it became part of a very focused medical section within Onex. Now, it is very much an independent business unit, where the management can make its own decisions and is no longer dependant on its Kodak parents. Part of the transition that Carestream must go through, is to grow from its success as number one in the market share of X-ray film and success in the medical imaging world, and its growing success in the health IT world. That would ensure it is well-placed in the transformation of healthcare worldwide. It is a massive transformation. Carestream aims to strengthen its business in IT, in the midst of digital images, digital medical records, cross-border technology and infrastructure. Today, the medical world is going through what the financial world faced 15 years ago, in terms of the globalization effect, with massive data centres, massive networks and cross-border technologies. Managed Services is very much a trend right across the IT segment, in telecommunication, or in finance, with straightforward desktop and server outsourcing. Guido Gebhardt spoke with Carestream Managers Graeme Allan and Bernard Algayres about their core business: taking customers from analogue to digital.

What are the key trends in health IT?
Bernard Algayres: One clear key trend is the outsourcing of IT-services. In the last couple of years, we have already seen some momentum on this. Customers who have gone through one or two generations of PACS know they will have to buy more and more storage and reinvest in hardware. Furthermore they know they will have to migrate their database, so changing the PACS supplier will not be easy. For this reason we restructured our managed services business and put it up as a separate business unit. We provide archiving, documentation and imaging services on an application service provider base. Our customers only pay for what they need. The customer doesn't see us directly; we manage the services in the background.
Data outsourcing is very well received in Germany, Holland, Austria, and the UK and probably in the Nordic countries.
Graeme Allan: Another trend, which is more a structure trend rather than a technology trend, is the move to regional and national programmes, which we have seen building up in different parts of Europe, led quite a lot by the UK. I mean the English IT programme (for health services) was nicely split into four regions. The Scottish programme, in which we are more instrumental, was a national programme. In my opinion, the Scottish programme is moving much faster than the English one and we are proud to be part of the Scottish approach from beginning to end. Carestream delivers the archive as well as RIS and PACS for 40 Scottish hospitals. So we see a lot of international ministry people visiting to understand exactly what Scotland has been doing. There are a lot of European countries now thinking: Can we leapfrog what other developed nations have done? The more structure and networked the healthcare systems work, the more money they save. One of the key points in e-health is to reduce costs and improve quality.

Large networks involve lots of interfacing. How is that managed?
Bernard Algayres: Sharing data in large e-health networks means exchanging data. And data exchange requires a high level of interoperability, which we, as well as other providers, showcased at our booth at the Integrating the Healthcare Enterprise (IHE) gathering. IHE is the future key to success. It provides integration profiles based on DICOM and HL7 and shows how workflow and data exchange should be organised. All major healthcare players are already IHE compliant. They all have to understood that interconnectivity is important. The world needs to be open. And we at Carestream put a lot of effort into this.

Most hospital IT-integration is radiology driven. Will other departments catch up?
Graeme Allan: Radiology is still number one in IT right now, but the trend will move on. With the success of PACS, all clinicians will want to store their images digitally. PACS will move to a kind of multimedia archive. Everyone in a hospital wants to take advantage of integrated IT-solutions. In the near future all hospital resources will be managed by IT – and with this trend the radiologist won't be the leader of IT-investment anymore. Modern hospitals trust in CIOs to organise and run a sophisticated IT-infrastructure. The CIO will soon be the second most important guy in the hospital. In hospital groups particularly, they have to think about the whole holistic entity. It is a personal imperative to see that technology is an enabler, rather than a cost. IT is becoming predominant in decision-making. For us, at Carestream, it's an interesting time to be part of the transformation.
More on the subject:
More on companies: