Carestream's X-Factor
Speeding the shift to DR and mobility
Carestream Health brought fresh innovations to ECR 2012, among them the DRX-Revolution that shares the same DRX-1/DRX-1C wireless detectors as others in the firm's DRX family. In our recent European Hospital discussion, Ulf Andersson, Director of marketing and development at Carestream Health in Europe, explained why he considers this mobile X-ray device and the firm's DRX series to be so significant.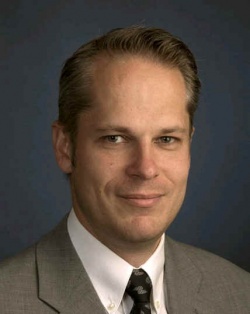 The Carestream DRX Revolution sets a new standard for all mobile imaging. It fits very well into A&E, ICU or any other department that requires a mobile device. 'To drive, you put your hands on the handle and press a small bar in. The system recognises that it's motorised -- but doesn't drive away. There are two circular wheels and tracks with larger circular wheels at the front, which make the machine extremely easy to move and manoeuvre.
When invited to try it at ECR, visitors were sceptical but when they touched the machine and started to move it their looks said more than a thousand words about how easy it is to run,' Ulf Andersson explains. The system has a main 19-inch monitor and 8-inch tube head monitor, on which to access PACS images. 'So, it's really a mobile X-ray room. There's one other feature that's absolutely brilliant – the grid alignment. In an old bedside image, when the grid isn't aligned it just looks awful. We put the DRX cassette into the grid, or the collimator feels where the grid is, and this device automatically recognises it.' With the chest, for example, he says the cassette is in the grid behind the patient and when the collimator is placed on the patient's front it automatically 'feels' where the cassette is and aligns the grid. 'You actually get fantastic image quality,' he confirms.
The image quality for portable exams is enhanced due to its powerful 32kW generator, DRX detector and Carestream software that enables easy tube/grid alignment. Yes, the mobile DRX-Revolution is looking good -- and with availability set for June customers in many countries will shortly start to experience the benefits in terms of functionality, Ulf Andersson is also positive: 'Users will get something that no other competitor can provide at this point in time. Could rivals catch up with Carestream in this area? 'We have the detector technology; it's now well proven and well established. We have over three thousand detectors installed worldwide. No one is near to that. We have experience in detector technology and our system is the result of massive input at the concept stage from customers in many countries who told us what they wanted in such a system. This is the result of that collaboration.' The tube head is easy to position; a collapsible column allows unobstructed views when on the move and the dual-drive system and ability to make tight, 360 degrees turns in small spaces means quicker arrival for image capture.
The system also has a long tube head reach, enabling easier X-ray exams despite crowding of other bedside medical equipment. There's also generous storage space for gloves, sanitisers, markers, paperwork and other items. Outlining the assets of the device, Ulf Andersson explains that there are real differentiators with the DRXRevolution 'Firstly, everything is based on the DRX detector, which can be used in multiple X-ray systems at a facility. For example, a detector can be used in a mobile unit for early morning rounds and then moved to a general radiology room. DRX detectors can also move from day use in general radiology to mobile systems that serve the emergency department at night. We refer to the versatility of the DRX detector as the X-Factor.'
'We also have a new detector that's actually lighter and more robust and gives a fast preview of the images – in only four seconds,' he adds before focusing on the firm's retrofit devices. 'You can actually take the DRX Retrofit kit and put it into the cassette slot of any mobile device. It's basically a computer and a screen – and that computer communicates with the DRX. It's very simple and quickly provides DR on any kind of mobile device. 'You can retrofit DRX detectors into other vendors' mobiles, such as the Siemens Mobilett or GE AMX units, to extend the life of existing equipment and take it to new levels of productivity. Many of these systems have been there for years and are very good machines, so why throw them away? A retrofit with the DRX detector is a great way to take advantage of existing equipment without too much expense.' DRX detectors present a new way of detector usage, he concludes. 'Everyone else says: This is the fixed room and this is a mobile one. Our re-use of the detector is unique as it can be used both in a large room or moved over to the mobile, raising standards for mobile imaging in the process. The X-Factor is bringing a totally new approach to DR.'
More on the subject:
More on companies: